Editor's Note: Reach Ladakh Bulletin turns 10
By
Stanzin Dasal
Leh, Jan 16, 2022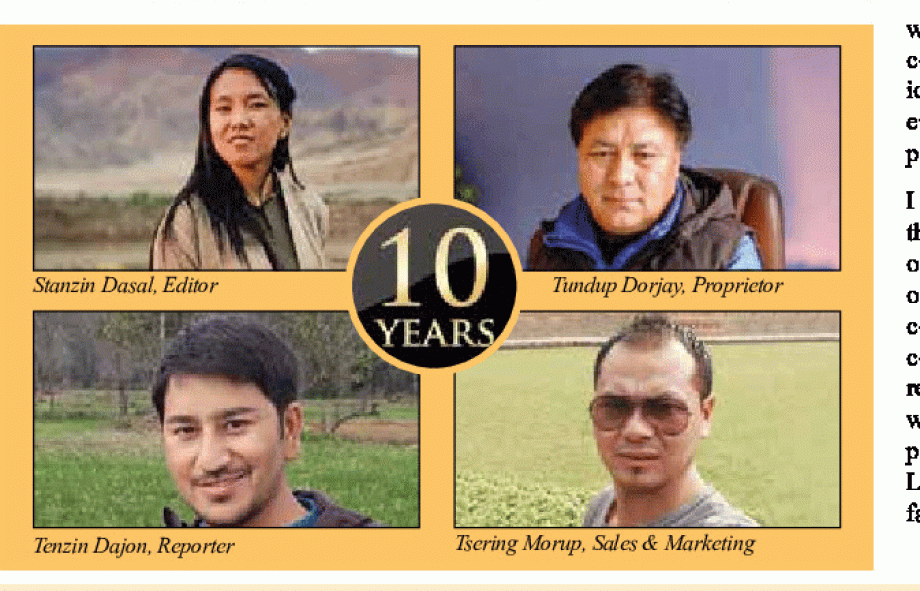 Leh :
Yes, you read that headline correctly: Reach Ladakh Bulletin turns 10 this year. The successful completion of 9 years is the endless hours spent working on the content of every issue, professionalism, and teamwork. Each issue has to be different and fresh, as it is perishable too. My sincere gratitude to the Proprietor of the Reach Ladakh Bulletin, Tundup Dorjay for starting the organisation and continuing it despite so many bumps in the road and Rinchen Angmo Chumikchan who was the Founding Editor of Reach Ladakh Bulletin for her tireless effort and dedication to making Reach Ladakh one of the top media houses in Ladakh.
When people were forced to stay indoors due to the nationwide lockdown, we had to stop the print edition for almost one year. However, we put in our best effort to keep you updated with the latest news through our e-papers. In February 2021 we came back with the print edition of Reach Ladakh Bulletin. We continue to evolve in how we cover and bring you our special blend of local news and features. Reach Ladakh is augmented by our website www.reachladakh.com which is updated daily, our busy social media hubs, Facebook, WhatsApp group, Instagram, Twitter, and Reach Ladakh YouTube channel. I feel very excited to share that we have 23, 365 subscribers and the numbers are increasing with each passing day. Thank you to all our readers and subscribers for showing faith and trust in us. Looking back, I cherish all those long working hours, the highs and lows, encountering both encouragement and criticism, and working with limited resources. We need your undying support to provide the best possible stories to you. 
I would like to end this letter by thanking the entire team involved in the making of Reach Ladakh, from the people in the office, ex-colleagues, and our external contributors, to our advertisers, and, of course, our readers. You are the ultimate reason why we put so many hours of hard work into all we do. This is your newspaper, so happy birthday to you, too. Reach Ladakh promise to continue striving for fair, honest, and objective reporting.
Milestones of Reach Ladakh:
Year 1999
•       Reach Ladakh published its first guide book
•       Launched its website Year
 2013
•       Published its first fortnightly paper 'Reach Ladakh Bulletin'
•       Brought all intellectuals on a common platform at the Reach Ladakh Conclave.
•       Introduced 'In Conversation page', in which well-known personalities are interviewed. More than 160 interviews have been conducted to date.
Year 2014
•       Aired 18 episodes on Alcohol-free movement, a sponsored radio programme on All India Radio, Leh. Year 2015:
•       Launched Reach Ladakh App on Google Play Store and Apple'sApp Store for wider reach.
 Year 2016
·      Introduced 'What do they say?" column, where we seek public opinion on various issues of the region.
·      First media house to consistently highlight issues along with interviews of LAHDC, Leh councillors
·      'Expert Talk Column' interviewed more than 80 experts so far on various issues.
Year 2018
·      Introduced Campus Diary, Know Your Culture and Fortnightly special
·      Launched Reach Ladakh YouTube channel
Year 2019
•       Started monthly talk show, 'The Reality' on Reach Ladakh YouTube channel.
Year 2020
•       Provided timely status and reports on COVID-19
Year 2021
·      Introduced "People's Voice" column, where we seek on various social issues of the region.
·      To inculcate reading and writing habits among children, we have started a new column for kids named 'The World of Juniors'.