Schools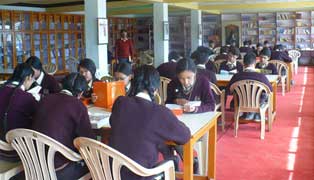 Education has always been seen and stressed upon as the main criteria of development of Ladakh during the past 60 years since India's Independence. The most prominent figure and popular leader of Ladakh late Kushok Bakula personally campaigned in every corner and remote areas to spread the awareness about importance of education among the tribal communities in landlocked region. Schools were opened and ensured that every family sends their children to these institutions.
Today, almost 100 percent enrollment have been achieved, which can be attributed to outstanding efforts by local NGOs led by Student Educational Cultural Movement of Ladakh, Operation New Hope education policy of LAHDC and more recently the Govt. of India's education programme called Sarva Shiksha Abhiyaan (SSA).
At the same time, in the recent times mushrooming private schools are catering to the need of quality education, which has set off a stiff competition among these institutions. Lamdon Model Senior Secondary School, Moravian Mission School, Islamia Public Schools are oldest and leading private schools followed by Mahabodhi School, Ladakh Public School and more recently, schools with national recognition such as Delhi Public School and Saint Mary etc.
Kendriya Vidhyalaya and Jawahar Navodhya Vidhyalaya also have their branches in Leh and sub-branches in different blocks of the district. These central government schools are among the coveted institutions for their academic excellence and compete with the premiere private schools in Leh. Today, the trend is parents opt for these schools for their kids, and more than some 60 percent of the total students in the entire district study in these schools.