Local Medical Practitioners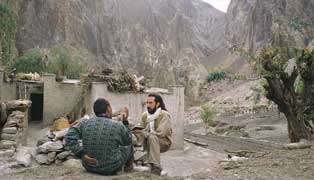 The traditional medicine practice of Ladakh is called Amchi system, based on Tibetan system of curing diseases. It is believed that Buddha himself revealed this system of healing in a form called Medicine Buddha (Sangay Manla). The practitioner of this medicine is called Amchi in Ladakh and there are many of them found practicing today curing ailments of great number of patients from every corner of Ladakh, despite presence of well run modern government hospitals. Amchi system is even gaining popularity among the increasing number of foreigners, for its organic and toxic free values with no side effects.
The Tibetans settle in Ladakh have set up a fully fledged medical centre based on Amchi system called Mentse Khang in the Leh town, where routine checkups, diagnose and cure take place, and medicines are available.
In 2010, the Government of India officially recognized Tibetan medicine as an India system of medicine called 'Sowa Rigpa'.
Traditionally, it has been a family profession with father practicing this system passing the knowledge and skill to his offspring. But today there are many aspirants who pursue professional degrees at Tibetan Medical & Astrological Institute at Dharamsala. Already, many passed outs are running private Amchi clinics in Leh successfully.