Leh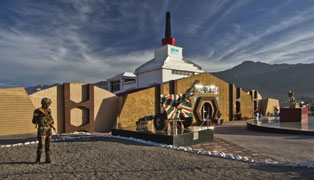 Leh District is the largest town of the Ladakh region with the area of 45110 sq km. It is located to the north of the Indus River at an elevation of 3600 m above the sea level. The town is dominated by the Namgyal Tsemo (victory peak) built by King Tashi Namgyal in the 16th century, as a royal residence and the nine-storey Namgyal Palace built by King Singay Namgyal on his victory in the reunification of the Upper and Lower Ladakh in 17 century. Leh became the capital of Stod (upper Ladakh) during the reign of King Graspa Bum- Lde, who ruled Ladakh from 1400 to 1430 AD. In the later period, Leh became an important center for trade in Central Asia, along with the Indus Valley between Tibet to the east, Kashmir to the west and ultimately between India and China.
Right below Leh Palace was the old mosque, a Sunni Muslim mosque. It was constructed under the threat of military action by the Mughal Emperor Aurangzeb which prompted King Deldan Namgyal to build the mosque in 1661. The old mosque reflected a mixture of Islamic and Tibetan architecture. After dismantling of the old mosque, in the same place a new mosque is under construction.
There is a religious co-existence of Buddhism and Islam both have been living in harmony in Leh. Besides these two communities, there are people who belong to different religions like Christianity, Hinduism, and Sikhism and are vital part of the society. The Christian community in Leh was converted from Tibetan Buddhism by German Moravian missionaries who first established a church in 1885.
In order to provide a transparent development in the area, the conception of the council was conceived and Ladakh Autonomous Hill Development Council (LAHDC) was constituted in 1995. The council has 30 councilors, out of which 4 are nominated and rest are elected. The Chief Executive Councilor heads this council. He is also the Chairman of the council.
Unlike other districts of the State, LAHDC also governs the administration in Leh. The Deputy Commissioner, Leh also holds the power of Chief Executive Officer LAHDC.
In 1974, Ladakh was made open for foreign tourists. Since then Leh became the centre for tourism related activities in the region and today, Ladakh is among the most preferred tourist destination for foreign as well as domestic tourists.