Workshop on safe and clean Chadar Trek held in Leh
By
Reach Ladakh Correspondent
Leh, Jan 07, 2019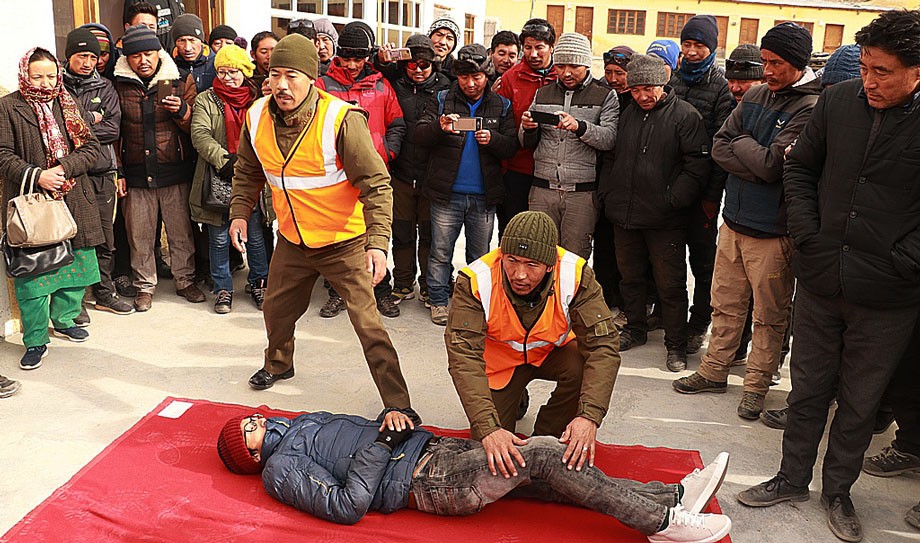 Leh :
To ensure efficient implementation of the new regulation for Chadar trek focusing human safety and protection of the environment, a one-day workshop was organised for all the stakeholders on January 2 at Food Craft Institute.
The workshop was organised by District Administration, Leh in which over 50 guides and around 10 travel agents took part.
Assistant Director Tourism, Wildlife Warden, DySP SDRF, President ALTOA and representative of Adventure Sports Cover 360 Degree were also present.
Highlighting the objectives of framing new rules for Chadar trek from this season, Avny Lavasa, DC, Leh said that the safety of human life and protection of the environment is important considering the loss of life during Chadar trek and harm to the fragile environment of the region. 
She stressed on the need to bring seriousness by implementing a streamlined mechanism to operate Chadar trek and also collective coordinated efforts from the concerned stakeholders to make this initiative a success. Also, with the success of this regulation, Leh could become a learning model for the rest of the world in such kind of adventure trekking.
She assured all kinds of administrative support and other facilities but urged the locals for their cooperation and initiative for the successful implementation of any plan or project. 
Stressing upon the better regularization of Chadar trek for quality tourism, she urged all the trekking guides to be responsible and understand the operating procedure.
She informed that waste collection and measurement will also be done on Chadar trek and also the insurance and medical facilities will be provided to trekkers from this year. 
The guides and travel agents were asked to give their feedback and suggestion about the shortcoming and problems they face to further improve the facilities and better regulation of procedures. 
Avny Lavasa appreciated ALTOA for taking their responsibility seriously and cooperation in the successful implementation of regulations in the tourism sector.
Pankaj Raina, Wildlife Warden apprised the participants about the regulations, facilities created and the steps to follow the procedures. 
He informed that only 100 tourists will be allowed per day and timings will be from 8 am to 5 pm for the Chadar trek. He spoke about the garbage bags, a checklist of consumer ables and security fees of Rs.500 to ensure proper collection of waste generated during the trek.
President ALTOA spoke about the single window facility provided in Leh at Tourist Information Centre for a pre-medical check-up, insurance, wildlife permit, and ALTOA NOC. 
He also informed about the 3 days mandatory stay in Leh with a pre-medical check-up on the 3rd day, smart rescue card for tourists and I-card for local guides, helper, potter, etc to avail any kind of free medical facility during the trek.
A private adventure sports company has been roped to provide adventure insurance that will cover cashless hospitalization in case of accident or AMS, medical evacuation, death, and disability. They will also provide a full-fledged state of art mobile hospital at medical base camp in Shingra Gongma stationed with a minimum of 3 doctors and base camp doctors including a surgeon, orthopedic and high altitude mountain medicine expert.
Headed by DSP, SDRF Sonam Dorjey a team of SDRF presented a demonstration on rescue in case of spinal injury, hypothermia, fracture, and cardiopulmonary research station. Also, the do's and don'ts in case of any kind of accident or illness.