Two-day training for homestay owners held in Leh
By
Reach Ladakh Correspondent
Leh, May 18, 2022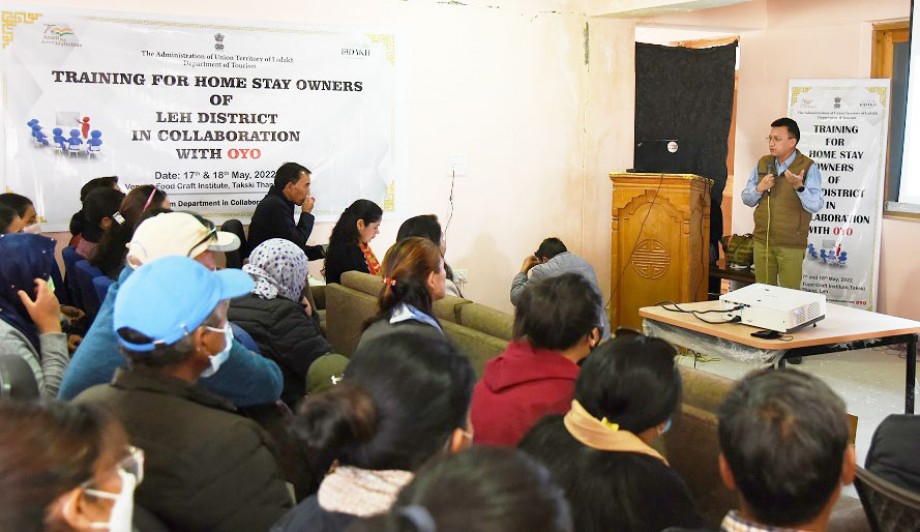 Leh :
A two-day training/workshop for homestay owners of the Leh district was organised Tourism Department, Leh in collaboration with OYO started on May 17.
Secretary, Tourism, UT Ladakh, Kacho Mehboob Ali Khan; Director, Tourism, Kunzes Angmo; Assistant Director, Tourism, Spalzes Angmo, and different homestay owners from different villages of Leh district were present.
 
Swati Sharma, Director, Learning and Development, and Neetu Sharma, Senior Trainer from OYO, Delhi are the resource persons for the two-day training programme.
 
Secretary, Tourism, UT Ladakh, Kacho Mehboob Ali Khan shared that the vision of the UT Administration is to make Ladakh a unique tourism destination promoting responsible and sustainable tourism. He added that with the medium of homestays, the administration aims to expand the scope of tourism in the villages, which presently focuses on a few main areas. He stressed making homestays a successful model for the promotion of tourism in Ladakh without losing its real essence, which lies in its culture, food, and tradition. He highlighted that homestays are means of earning a livelihood at the doorstep.
 
He further added that the collaboration with OYO to impart training to the homestay owners in Ladakh would create successful and responsible homestay owners. He assured to provide all the necessary support and assistance to the homestay owners.
 
Earlier, Director, Tourism Department, Kunzes Angmo said that 275 homestay owners were selected for the two-day training. She informed that the Tourism Department would distribute essential homestay materials to the homestay owners and urged them to use them for the specified purpose. She also advised the homestay owners to register their homestays with the Tourism Department. 
 
Director Tourism stressed that the promotion of homestay is essential to take tourism and tourists to the interiors of Ladakh. She added that learning behavioral, interactional and managerial skills are necessary for running a homestay.
 
Assistant Director, Tourism Department, Leh, Tsering Spalzes shared that the training would enable the homestay owners to learn and understand the rules of running a homestay successfully. She added that homestays could be a source of income generation and expressed hope that participants would take maximum benefit from the training programme. 
 
The purpose of the two-day training programme is to hone the skills of the homestay owners. The training would focus on various topics related to the homestay, such as prerequisites to be a homestay owner, expectations of guests, how to profitably run a homestay, case studies, and success stories. 
 
An interactive session between the expert trainers and the participant homestay owners was also part of the training schedule.