Secretary Tourism inspects progress of tourism infrastructure development work at Drass
By
Reach Ladakh Correspondent
DRASS, Jul 08, 2021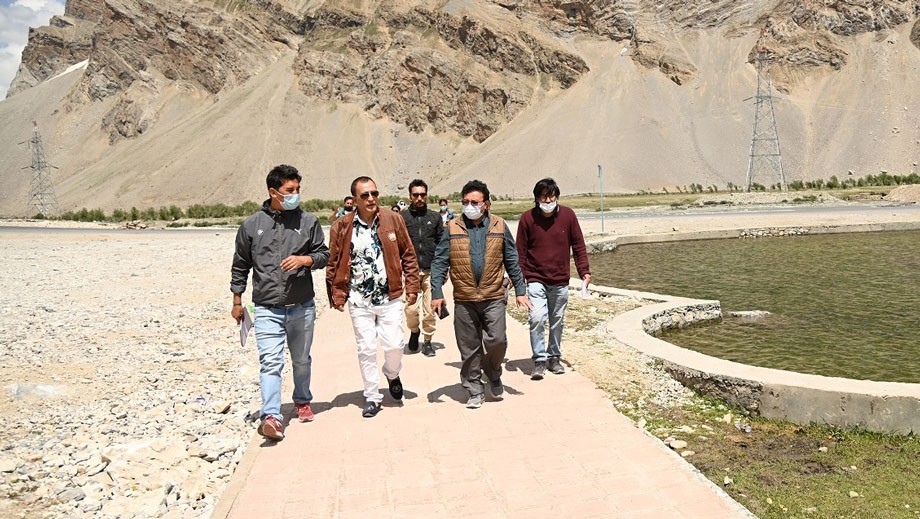 DRASS :
Secretary Tourism, Labour and Employment, Ladakh, Mehboob Ali Khan visited Drass Sub Division and inspected the pace of various ongoing work in the tourism sector on July 7.
Several public representatives and other individuals including Councilor Bhimbhat, Aga Syed Muhammad Shah; BDC Chairpersons, Najma Bano and Noor Muhammad, Sarpanches, Nambardars and members of the civil society met the Secretary and raised different issues and demands. They highlighted the need for the promotion of tourism, opening of restricted areas for tourists, registration of labourers, the establishment of Drass Development Authority, allotment of special tourism package for Drass in 2021-2022, construction of ropeway gondola from Manman to Biru Khar, expansion of trekking routes, the opening of Drass Gurez Road, promotion of winter sports and other related demands.
The Secretary assured them of suitable measures to address the issues and said that maximum funds will be projected for Drass under SDP next year.
Regarding the opening of the restricted areas for tourists, Secretary Mehboob Ali Khan assured that the matter will be taken up with the Army authorities, and a proposal will also be forwarded in this regard.
He said that objective of the tour was to understand the tourism potential of Drass and to lay a special focus to promote summer as well winter tourism in the area. He also assured that soon a labour registration camp will be organised in Drass which will ensure the mandatory rights to the labourers. 
At Minamarg, the Secretary directed the concerned officers to complete the public convenience by the end of this year which is being constructed by the Tourism Department at a cost of ₹80 lakh.
On the construction of Skoryangs Centre in Drass, the officers were asked to identify the land and prepare the DPR with the mandatory inclusion of structural norms as per traditional architecture. Also, the officers were asked to ensure proper demarcation of the site for its landscaping and beautification including fencing of the Darupadi kund besides the establishment of camping sites, eco-friendly benches, washroom and reception.
Secretary Khan also visited the eastern portal of the Zojila Tunnel where he inspected the process of the works being carried out presently. It was informed that 70 metres drilling has been done so far and by the end of the year, the target of 1 km will be achieved. The Secretary enquired about the facilities being provided to labourers and directed the concerned to adhere to labour laws in letter and spirit.
He also visited Manman viewpoint where he was informed about the potential of the establishment of ropeway gandola from Manman to Biru Khar, trekking routes, paragliding and winter ski slopes.
He interacted with public delegations at Mushkoo village and also visited Botokal meadows. Underling the beauty of various tourism potential sites in the area, he said that proper planning will be done to channelize the tourism sector in Drass which in turn will be a game-changer in boosting the economy of the area.