Secretary Tourism highlights importance of developing historical structures at Sodh, Chiktan
By
Reach Ladakh Correspondent
Kargil, Jul 09, 2021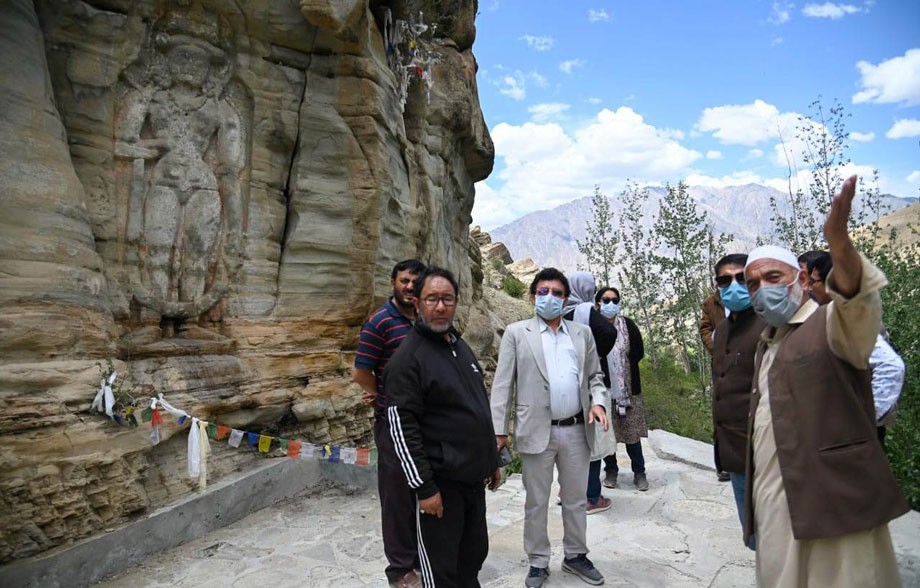 Kargil :
Secretary, Tourism Ladakh, Kacho Mehboob Ali Khan visited various historical and heritage sites in Sodh and Chiktan area on July 8.
He took stock of the progress of development works at the historical mosque at Yurbaltak and instructed the concerned officers to complete the work as soon as possible. He further directed to develop the new structure with a combination of both local and Islamic architecture. The mosque is said to be as old as Passar Khar. 
Secretary also visited various antiquities and rock carvings in the Sodh area. He visited the Maitreya Buddha Statue at Apati which is a Ghandhara Art type statue built in the 8th to 12th century and instructed the concerned officers for the development and beautification of the area around the statue and footpath to the historical site. 
He visited the shrine of famous cleric Sheikh Ibrahim at Apati and discussed the scope for the development of public convenience and water facilities at the heritage site for the pilgrims. He also visited the old mosque and Pew Khar at Barchay.
At Shashi Lake, he took stock of the site protection walls, the need for the development of tourism infrastructure in the area and other related facilities. He instructed the concerned officers to demarcate a separate area for picnickers and tourists to avoid pollution in and around the lake. 
A public delegation including BDC Chairperson and Panchayat members submitted a memorandum demanding to strengthen, raising walls and extension of Shashi Lake. They also demanded to development of a new water reservoir at Pilong Thang Sandow. 
The concerned officers were asked to conduct a survey for exploration of trekking routes in Sodh and Shakar Chiktan area and to train youth as tourist guides to ensure proper risk-free trekking on the route. 
Gasho, Yogma Kharbu and Lamsoo inhabitants submitted a memorandum regarding issues like the provision of water facilities for irrigation, development of mobile connectivity and promotion of tourism in the area.