Secretary, Tourism, and Culture takes stock tourist amenities at Darchiks, Garkone, Chiktan
By
Reach Ladakh Correspondent
Kargil, May 07, 2021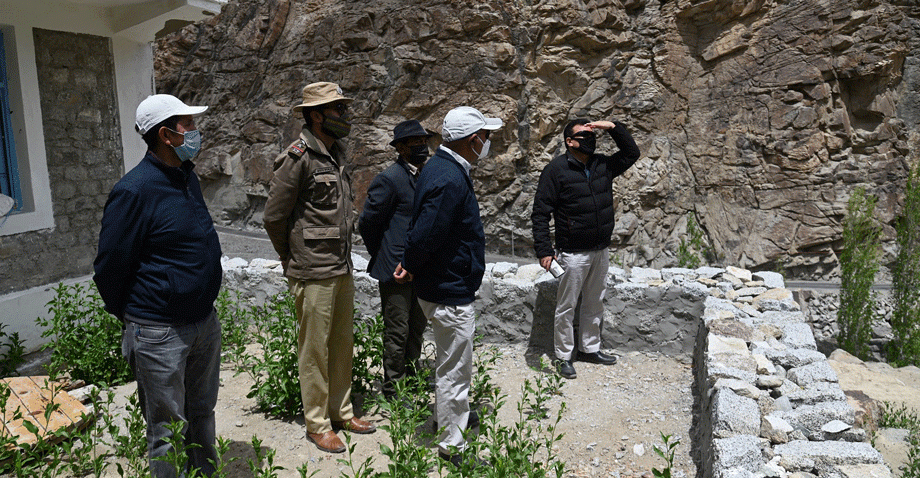 Kargil :
Secretary, Tourism and Culture UT Ladakh, Mehboob Ali Khan took stock of the status of tourism assets and wayside amenities at Darchiks, Garkone, and Shakar Chiktan area on May 7. 
The Secretary of Tourism and Culture visited ski slope being planned to develop at Hambotingla, tourist guest houses at Silmo and Darchiks, Himalayan Aryan Museum Garkone, Yatri Niwas Shakardoo, Tourist Dak Bungalow Chiktan, and other tourist amenities in the area.  He took stock of the lighting facilities, water supply, infrastructure, cleanliness, hygiene, and other necessary arrangements for tourists.
He instructed the concerned officers to ensure the proper utility of all guest houses and tourist amenities by taking measures to run them on an outsourcing basis. The concerned officers were also asked to ensure the inclusion of local architecture and designs in the new construction projects. 
The Secretary said that proper signages will be installed at historically important, tourist interest locations as well as tourist facilities in the area of Aryan Valley and Shakar Chiktan once the logo of the Tourism Department is finalized. He said that this will on the one hand help in acquainting visitors and tourists about the historical importance and tourism potential of these areas, and on the other hand will also ease tourists in getting easy access to the boarding and lodging facilities.
Villagers of Sanjak submitted a memorandum demanding installation of a lift irrigation system in the village, mobile tower connectivity, and construction of a tourist bungalow.
The Secretary instructed the concerned officers to identify an appropriate location for the construction of a tourist dak bungalow in the village in consultation with the villagers.
At Chiktan public representatives demanded preservation and up-gradation of the historic Chiktan Castle, removal of inner line permit for tourists visiting the area, and other related issues.