No passenger movement on Zojila till March-end: Div Com
By
Reach Ladakh Correspondent
Leh, Mar 19, 2020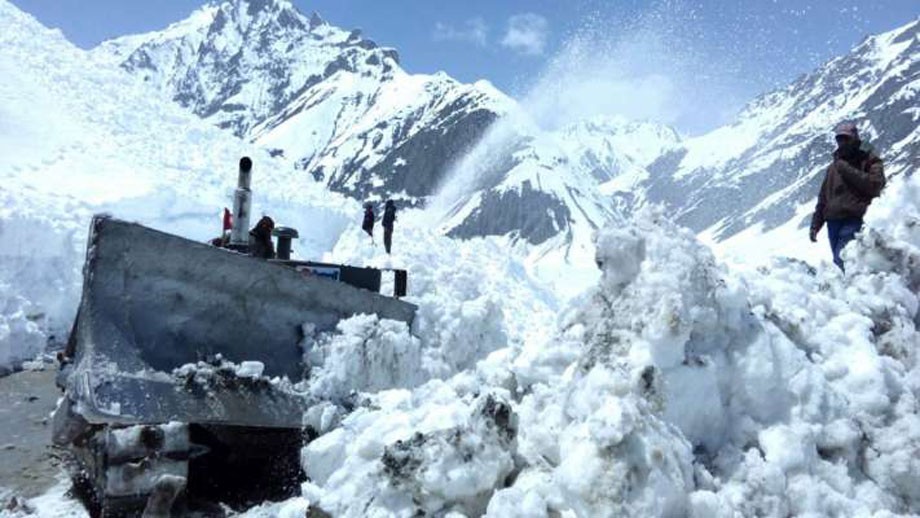 Leh :
Saugat Biswas, Divisional Commissioner, Ladakh reviewed the opening of Zojila pass and needed security and medical arrangements to avoid the spread of Covid19 on March 17.
Considering aspects such as weather forecast, safety of travel on the snow-bound pass and spread of COVID-19 it was decided that no passenger movement will be allowed on the Zojila road at-least till the end of March. Opening of the road for passenger movement will be reviewed towards the end of the month.
 
 Satish Khandare, Inspector-General of Police UT Ladakh, District Magistrates of Leh, Kargil and Ganderbal, G.C. Arun, Station Commander, 14 Corps, Brig. ; Vinod Kumar, SSP Kargil; Brig. Sohal, Chief Engineer, Vijayak; Station Commander, 8 Mountain Div; Dr Motup Dorjey, Chief Medical Officer, Leh; ASP, Ganderbal and other officers attended the meeting.
 
Detailed discussion on preparations to make the road worthy of heavy passenger traffic, and also the arrangements put in place by the district administrations of Kargil and Ganderbal for regulating traffic in the light of COVID-19 was carried out.
 
Issues such as the shipment of essential commodities, medical screening of commuters travelling on the road including labourers of BRO and other engineering agencies who will come from other parts of the country was reviewed.
 
Shafqat Iqbal, Deputy Commissioner, Ganderbal laid out the current situation at Sonamarg regarding the possibility of movement of vehicles carrying essential commodities and passengers in the coming weeks. Baseer Ul Haq Choudhary, DC Kargil presented a detailed picture of the arrangements already planned for medical screening of the commuters. Brig. Sohal Chief Engineer, Vijayak and Station Commander, 8 Mountain Div, Kargil detailed about the further road tests those are underway and the probable time required to make heavy civilian traffic possible. The Station Commander, 14 Corps detailed about the arrangements being put in place by the various army agencies for the screening of labourers and other vehicles bringing army supplies.
 
Satish Khandare enquired and suggested the steps that can be taken for more efficient movement of essential commodities and passengers once the road is opened.
 
Saugat Biswas asked Deputy Commissioner,Kargil to fine-tune the medical response plan, in coordination with the BRO and Army for ensuring proof screening and quarantine at the entry points in Kargil. He also instructed for the issuance of medical fitness cards to labourers after screening. 
 
Divisional Commissioner assured that the administration will take every step to make the road opening prompt and safe for commuters.