Ladakh Tourism Department plans to develop Hydro Tourism at NHPC Dam, Alchi
By
Reach Ladakh Correspondent
Leh, Jan 07, 2023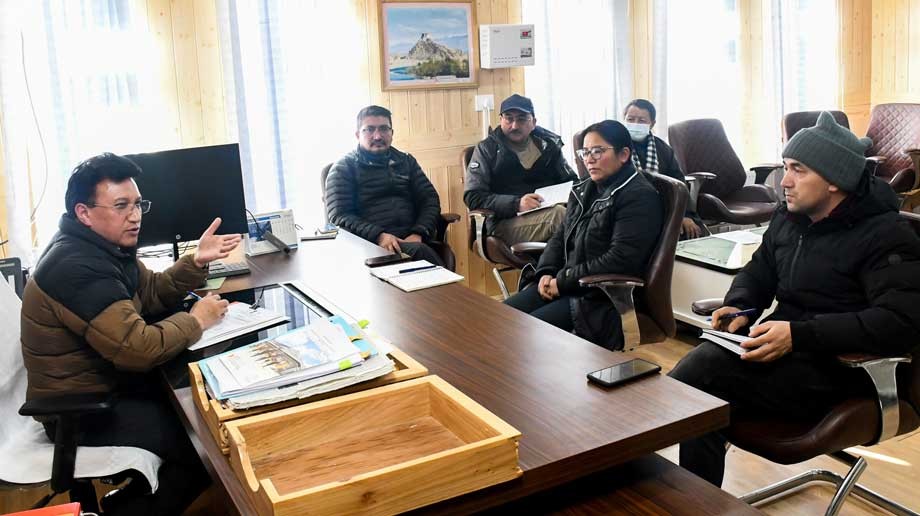 Leh :
Ladakh Tourism Department plans to develop Hydro Tourism in collaboration with NHPC at the National Hydroelectric Power Corporation (NHPC), Dam, Alchi on the Indus River.
Administrative Secretary, Tourism Department, Kacho Mehboob Ali Khan chaired a meeting at the Civil Secretariat, Leh on January 5.
Kacho Mehboob Ali Khan highlighted the scope and potential of developing water-based tourism in Ladakh. He emphasized the role of tourism in the economic growth of the region. He said that the development of hydro tourism at Alchi will further boost the economy, create jobs, develop infrastructure and also promote cultural exchange between tourists and locals.
Deliberations took place on introducing various aquatic sports at the NHPC Dam, Alchi, such as Kayaking; Boating; Jet Skiing; Motorboating (during the summer season), and Ice Skating (during the winter season). Discussions also took place on developing infrastructure along the river for tourist attractions such as camping sites, and souvenir shops where local entrepreneurs can showcase and sell their products. The setting up of floating cafeterias was also discussed where tourists can get a taste of the local Ladakhi delicacies onboard. He said the development of hydro tourism will be rolled out in a phased manner.
Officials of the Tourism department were asked to prepare DPR in consultation with NHPC Management within a month so that the work can be planned for approval and execution by April 2023. He also gave directions for developing water sports safety guidelines.
The meeting was attended by Director Tourism, Ladakh, Kunzes Angmo; ADC Leh, Sonam Chosjor; SE Tourism, Ghulam Nabi; DGM (C), NHPC, Surajit Dutta; Manager (C), NHPC, Hemant Dwivedi; AD Tourism, Tsering Spalzes, and OSD, Mohd Ali Tak.
Earlier in the day the Secretary also had a meeting with Officers from 14 Corps Headquarters and officers of the Tourism department in connection with the development of border villages. The Secretary directed the officers to expedite the process of finalization of DPRS in a coordinated manner so that work can be planned at the earliest.