L-G discusses roadmap for tourism development with officials from Ministry of Tourism
By
Reach Ladakh Correspondent
Leh, Aug 25, 2021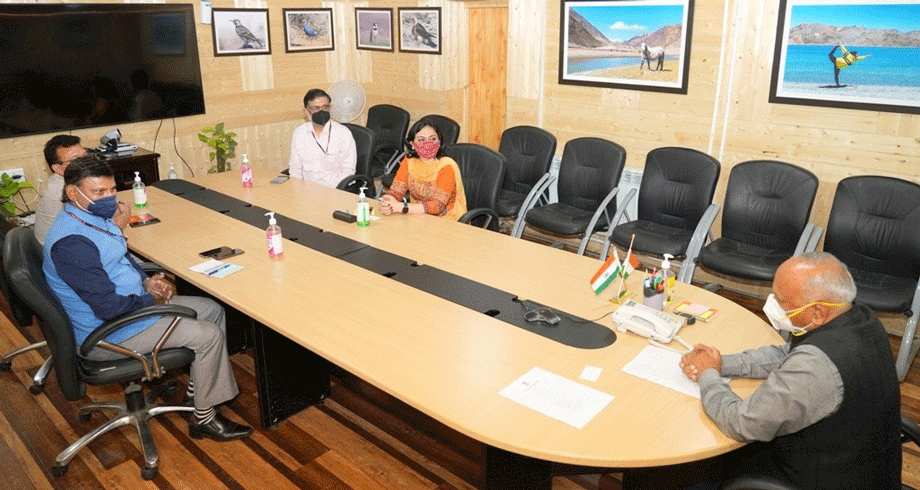 Leh :
Lt. Governor, RK Mathur chaired a meeting with senior officers from the Ministry of Tourism, GoI  and discussed the roadmap for the Tourism in Ladakh on August 25 at Raj Niwas.
LG Mathur expressed that every project in Ladakh will be drafted keeping in view the vision of a carbon neutral Ladakh, as desired by the Prime Minister and the roadmap for tourism will also be in line with that vision.
He stated that virtual tourism involving Geological Tourism and Dark Sky Parks can generate income in the tourism sector without adding carbon footprints to the environment of Ladakh.
Mentioning the need to promote eco-tourism, LG Mathur stated that Ladakh Administration has been working towards providing the required boost to the home stays in the villages and added that there is still a lot to do in terms of connectivity and amenities for successful functioning of these home stays.
Need for alpine certified mountaineering guides, training to perform rescue operations, provision for air ambulances etc were also highlighted.Other potential activities related to wildlife tourism, winter sports, 'patriotic' tourism, adventure sports etc. were also discussed.
The Director General, Ministry of Tourism assured assistance in terms of providing capacity building training to the manpower involved in the sector and made various suggestions pertaining to promoting sustainable and quality tourism.
He thanked the officials for their inputs and requested for support in drafting and execution of a sustainable tourism roadmap which will take Ladakh closer towards becoming a high-end/premium tourist destination.
Meanwhile an event, 'Ladakh: New Start, New Goals' organised by the Ministry of Tourism, GoI in Ladakh was held in Leh. DG, Min. of Tourism/CMD, ITDC, Sh. G. Kamala Vardhana Rao; ADG Min. of Tourism Smt. Rupinder Rao; Economic Advisor, Min. of Tourism, Sh. Gyan Bhushan and Secretary Tourism, Ladakh, Sh. Mehboob Ali Kacho were present.