First meeting of Publicity Committee of Tourism Department held virtually
  Intensify publicity for quality and sustainable tourism promotion,  says Commissioner/Secretary Tourism
By
Reach Ladakh Correspondent
Leh, Nov 10, 2020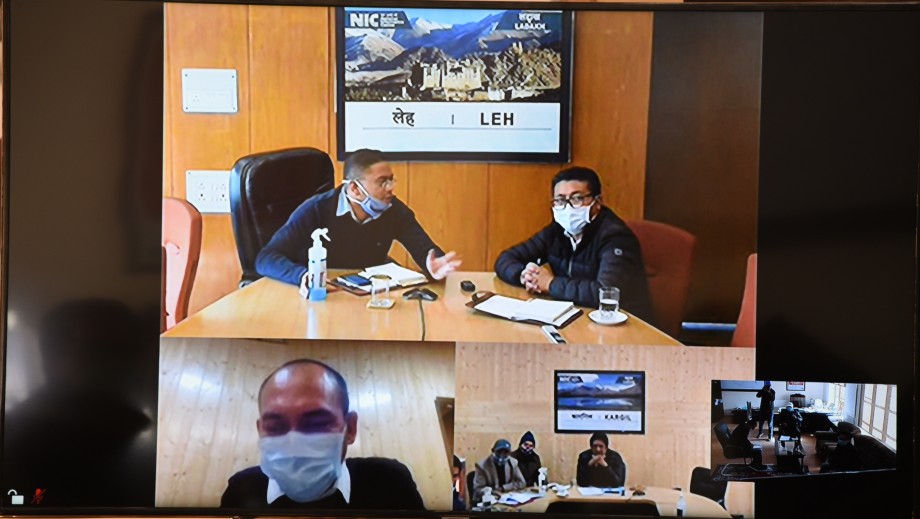 Leh :
The first meeting of the Publicity Committee of Tourism Department, UT Ladakh was held virtually under the chairmanship of Commissioner/Secretary Tourism, UT Ladakh, Rigzin Samphel on November 10.
Deputy Commissioner Leh, Sachin Kumar Vaishya;  Deputy Commissioner Kargil, Baseer-ul-Haq Chaudhary; Director Finance UT Ladakh, Tahir Hussain; Chief Executive Officers, Tourism Leh Sonam Chosjor and Kargil, Tsering Motup, Assistant Director Tourism, Leh and Kargil and Tourist Officer Zanskar were present in the virtual meeting.   
During the meeting, detailed deliberations on the promotion and publicity of UT Ladakh Tourism was held. 
Rigzin Samphel instructed that the publicity of UT Ladakh needs to be intensified for promoting quality and sustainable tourism to the region. It was also impressed upon the stakeholders for a detailed study of the events that require detailed and concentrated publicity for the overall promotion of the event or festival. 
After in-depth discussions held on the agendas furnished by the AD Tourism of Leh and Kargil it was unanimously decided that the Ladakh Festival will be celebrated at the UT level in both the districts of Leh and Kargil with a conscious effort to decentralize it from cities to villages of both the districts. Also, the Ladakh Winter Conclave and Ladakh Literature Festivals will be celebrated at the Director level. 
Considering the silver-jubilee celebration of the Ladakh Singge Khababs/ Sindhu Festival next year, the direction was given for elaborate arrangements for its publicity and grand celebration. 
It was also directed to conduct detail and genuine study of the places that need special attention for the celebration of the Losar festival in both the districts. The unanimous decision was made for promotion and publicity of 'apricot blossom' in both the districts in the lines with the cherry blossom of Japan. 
AD Tourism Leh &Kargil, Jigmet Namgyal, and Agha Toha gave a detailed PowerPoint presentation on the calendar of events and festivals scheduled for the coming year in their respective districts. Thrust was given on the promotion of adventure tourism in Ladakh.