District Road Safety Committee meeting held in Kargil
Calls for effective, workable road safety management system
By
Reach Ladakh Correspondent
Kargil, May 29, 2019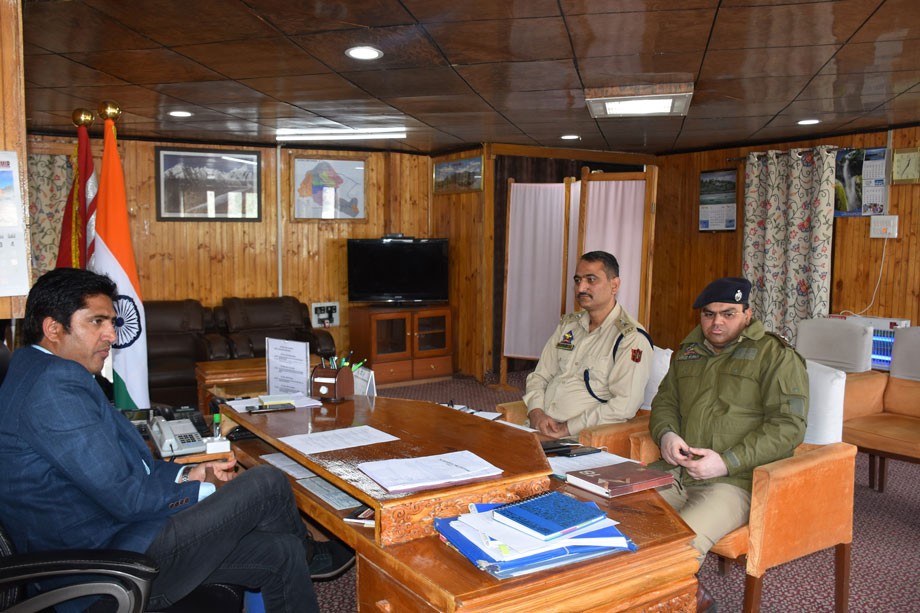 Kargil :
District Road Safety Committee meeting was convened by Baseer ul Haq Choudhary, DC / Chairman, District Road Safety Committee Kargil to ensure road safety and effective management system on May 28 at DC office.
Members of the committee including Dr. Vinod Kumar, SP, Kargil, Khalid Amin, Additional SP, Chief Medical Officer, Chief Education Officer, Executive Engineer R&B II Kargil, Dy SP Traffic Kargil, ARTO Kargil, and AD Information Kargil besides other concerned officers were present in the meeting.
Khadim Hussain, Assistant Regional Transport Officer (ARTO) who is also, the Member Secretary of the committee informed the status of the registered vehicles in the district besides other key issues.
Baseer ul Haq Chaudhary underlined the need to put in place an effective and workable road safety management system in the district. He stressed the committee members to take concrete measures in this regard.
Deputy SP Traffic Kargil was directed to identify blind spots on National Highway 1 from Drass to Hinaskot and propose corrective measures to reduce road accidents. He also directed the concerned officers to install crush barriers, speed breakers and rumble strips for better traffic regulation.
In regard to the establishment of trauma centers, Baseer ul Haq Chaudhary directed CMO to properly functionalize the trauma centers in District Hospital Kargil and Community Health Centre Drass. He also asked the concerned to conduct mock drills to raise awareness about the functioning of trauma centers in case of road accidents.
The need for a swift and responsive coordination mechanism among Police, Health Department, ARTO, SDMs and Tehsildars to ensure prompt attention and medical care to the road accident victims was also highlighted.
While emphasizing the need for practical measures to enhance awareness about traffic etiquette and road safety measures among masses, he directed the concerned officers to carry out all-inclusive publicity through Radio, TV and social media. Also, he asked to hold road safety sensitization programme for drivers.
 
He further stressed that the guidelines of the Supreme Court of India pertaining to school bus safety measures should be implemented in letter and spirit.  CEO Kargil was directed to conduct road safety awareness activities in schools like seminars, debate and painting competitions, nukkad nataks.
The lifting charges of erroneously parked vehicles from present ₹ 500 to ₹ 2100 were also enhanced. Later, in a separate meeting, DC directed Assistant Commissioner Development (ADC) Kargil Imteeaz Kacho to immediately kick start the process of a comprehensive survey for the formulation of a plan for implementation of the Water Security and Sanitation Mission in the district.
He was asked to carry out the survey in a rational manner with the involvement of AEEs, AEs, linemen, VLWs, Patwaris, and other fields functionaries. Formulation of Flood Management Plan and Water Conservation Plan was also discussed.
The concerned officers were asked to ascertain the data with regard to the availability of commercial water supply connection of all the hotels, service stations, restaurants, institutes, and other business establishments.