District Administration sets regulation and standard operating procedures for Chadar Trek
License of the tour operators, porters and agencies to be revoked on violation of rules
By
Reach Ladakh Correspondent
LEH, Nov 20, 2018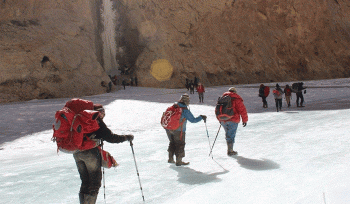 LEH :
Considering the safety and security of the tourists who intend to do Chaddar Trek during January and February 2019 in Ladakh, District Administration Leh circulated regulations and standard operating procedures on November 17.
Avny Lavasa, DC in an order made mandatory for all the foreign and domestic tourists to have medical insurance when they apply for Chaddar Trek and take medical check-up before the trek.
Apart from it other important directives like acclimatization up to the 2nd day of arrival in Leh, getting NOC from ALTOA and a permit from Wild Life Department before trek also been framed.
As per the order, the medical check-up facilities and insurance cover will be provided by Ladakh Rescue Centre (Fantasy Tour Co.) and Adventure Sports Cover 360 (approved by District Administration) at Tourist Information Centre under the supervision of ALTOA.
Chaddar trek shall be allowed to do only through registered travel companies based in Leh or through porters registered with ALTOA having experiences and training, identity cards issued by ALTOA with the condition of client porter ratio of 5:1.
To keep the Chaddar route neat and clean, green bags will also be provided to each group by the Wildlife Department for garbage collection. To deal with emergencies and evacuations, District Administration shall provide sat-phones to the agencies to facilitate communication.
The order further said that the District Administration reserves the right to revoke the license of the tour operators, porters, and other agencies if any regulations are violated.