Designer s Choice- A Glimpse of Ladakh Landscape on Ramp
By
Rinchen Dolma
Leh, Oct 29, 2008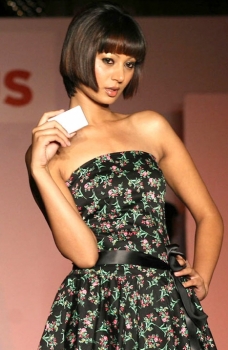 Leh :
The magic has begun….Ladakh is no more in books or maps, its out on ramp now. The designer duo Nikhil and Shantanu has dared to create the magic of gigantic rocks and serene lakes of Ladakh and showcased in their line Serenity at the day two of the Wills Lifestyle India Fashion Week (WIFW) started from October 15 in New Delhi.

In this Fiama Di Wills sponsored show, highlighting the landscape of Ladakh dominated by mountains, lakes and rocks the models walked in hues of white, black and a tinge of blue spreading a wave of serenity on the ramp. But, the show stealer of the evening was Bollywood actress Deepika Padukone who sashayed down the ramp in a white tunic that had a face of Ladakhi boy printed on it.

The art of creativity and innovativeness in the dresses clearly depicts the designer duo's love and appreciation for nature. Their line was dominated by innovative fabrics and surface texturing other than using lots of organza in the collection. Loose drapes around the body of the model represented rocks. One of the dresses made completely of paper was exceptional and exquisite.

Intentionally or unintentionally, through this creation the designer duo has put forth a very inspiring message that when we humans and nature would come together - there would be a serene effect on everyone. Nikhil and Shantanu has taken this particular theme for the WIFW because they were mesmerized by the landscape of Ladakh and the beauty of nature and it is their ode to the place and nature.