Chadar trek to be open for trekkers in January 2023
Secretary Tourism reviews preparedness for Chadar Trek, 2023
By
Reach Ladakh Correspondent
Leh, Nov 21, 2022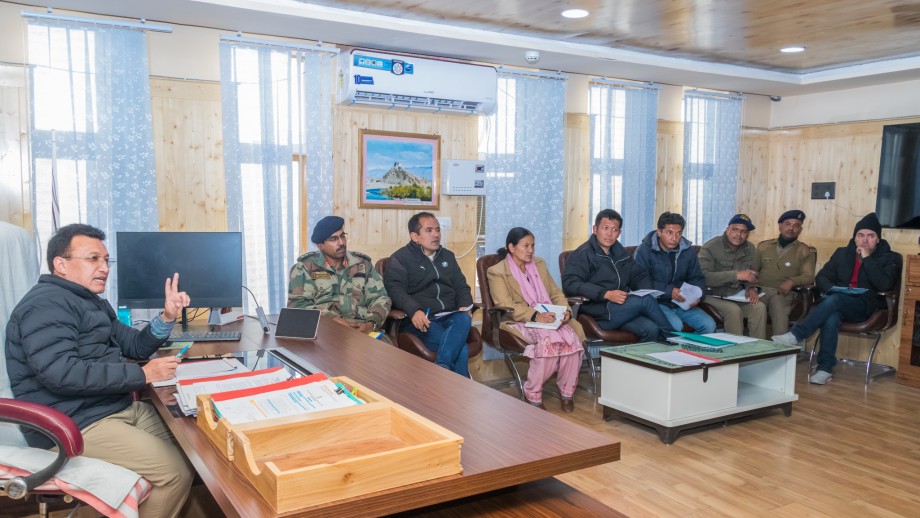 Leh :
Secretary, Tourism and Culture, Ladakh, Kacho Mehboob Ali Khan chaired a meeting and reviewed the preparation for Chadar Trek, 2023. The trek shall be open for trekkers in January 2023 after a break of two years, owing to the pandemic.
Concerned officials from DC office-Leh, UTDRF, Police and Health departments, BRO, ALTOA, and others apprised the Secretary about the current status of logistical preparations necessary for Chadar Trek viz. medical facilities; hotels; insurance; security and rescue arrangements; facilities for porters; helipad; temporary toilets, among others.
The Secretary stated that to provide a quality winter tourism experience to the tourists, safety & security and adequate facilities at night halt locations & along the route are of utmost importance, especially in the case of Chadar Trek for which the window of safe travel is limited. 
He stated that brand building for the Chadar trek is necessary not just to promote this popular trek but also to sensitize the tourists so that they are well prepared concerning acclimatization, safety, cleanliness and other drills prerequisite for successfully undertaking the Chadar trek. He urged the concerned departments and tour operators for thorough preparations for the safety of trekkers.
 
The following important decisions were taken and directions were passed as noted below:
 
(i)    Project Yojak (BRO) will intimate positively by Monday i.e. 21.11.2022 about the availability of a safe stretch for trekking along the Chadar trek (tentatively for the period 1st January to 10th February 2023), so that the reconnaissance survey can be conducted at the earliest.
(ii)    (ii) A team comprising of officers/officials from the DC office, Leh; UTDRF; Wildlife department; Tourism department; Ladakh Police; ALTOA, and any other organisation associated with the trek, etc. will undertake a reconnaissance survey along the available safe stretch for Chadar trek and submit a report regarding the requirement of necessary arrangements for the trek.
 
The meeting was attended by Wildlife Warden, Ladakh, Pankaj Raina; Director, Health Department, Ladakh, Motup Dorje; CMO Leh, Nurzin Angmo; Assistant Commissioner (Revenue), Leh, Shabir Hussain; Dy SP UTDRF; Dy SP DAR, Nilza Angmo; PA/ADC, DDMA; officials from Project Himank, Project Yojak, BRO; General Secy, All Ladakh Travel Operators Association (ALTOA), Leh; President, All Ladakh Hotel and Guest House Association (ALGHA), Leh and other concerned officials.