CEC reviews preparation for winter tourism season 
Discusses plans for Chadar Trek and Marathon on Pangong Lake
By
Reach Ladakh Correspondent
Leh, Nov 20, 2022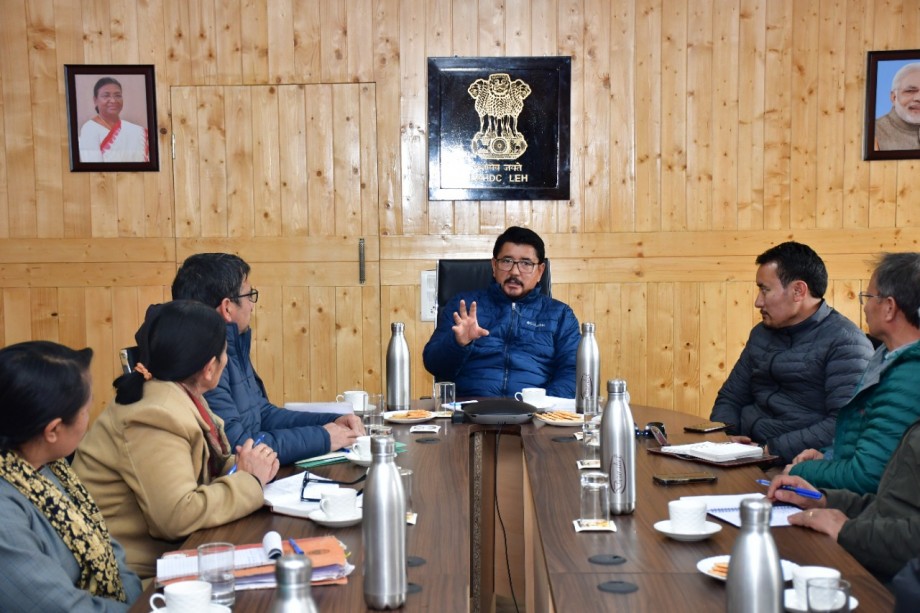 Leh :
Chairman/CEC, Adv. Tashi Gyalson reviewed necessary preparations for the Chadar Trek and allied tourism activities including a marathon on the frozen Pangong Lake ahead of the coming winter tourist season in Ladakh on November 19.
Considering Chadar Trek as an exclusive winter tourist destination in Ladakh, CEC instructed all the concerned officials and tourism stakeholders to make it more sustainable by regulating the industry in an organised manner. He also requested officials of BRO Project Yojak to minimize blasting works on the road construction works near the Leh-Zanskar Chadar trek routes during the peak tourist season. 
The need for proper insurance for tourists trekking on the Chadar routes and other formalities required were also deliberated during the meeting. 
CEC further instructed the officials of the Ladakh Mountain Guide Association to work in close coordination with the Health department for any casualties and rescue work during the Chadar trek season. 
The meeting also discussed preparations for the upcoming marathon on frozen Pangong Lake to be conducted during the winter season to extend winter tourism in Ladakh in a regulated and sustainable manner. 
It was decided during the meeting to hold the Chadar trek for one month starting from January 5, 2023, depending on the formation of ice in the Zanskar river and similarly the marathon on Pangong lake in February 2023. 
Councillor Chushul, DC/CEO LAHDC Leh, Director Health Services Ladakh, CPO Leh, CMO Leh, Dy SP SDRF, and representatives from different tourism stakeholders including President LTTA attended the meeting.