ALTOA demands amendment in new trekking, tourist routes order  
The order states that tourist/trekkers are not allowed to night stay on all new routes
By
Reach Ladakh Correspondent
Leh, Apr 08, 2021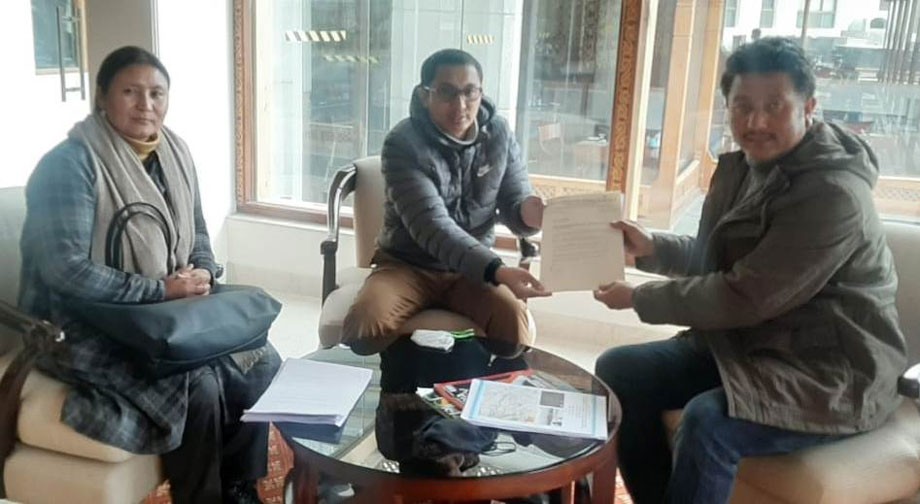 Leh :
All Ladakh Tour Operator Association raised the need for amendment in the approval of new tourist and trekking routes and re-opening of Man -Merak – Chushul – Tsagala – Tsaga – Loma – Nyoma – Mahe & Chamser – Lungser Peak.
The member of ALTOA met Jamyang Tsering Namgyal MP Ladakh on April 6 and informed that Hanle was open for Tourism and overnight stays, but after the MHA issued a press note on the opening of new tourists and trekking routes in Ladakh on December 18, 2018, everything changed. They stated that the Government has issued this approval letter with an impractical clause that disallowed night stays.
"Hanle which was earlier open for overnight stays became a day excursion itinerary. This has greatly impacted the employment and economic prospects of the people living in this border region of Ladakh and impacted the tourism potential of Ladakh", said ALTOA President. 
The Govt. of India has officially declared four new trekking routes and 5 tourist routes without allowing night stays. The order states that a night stay is not allowed to ensure safety and security. ALTOA questions that how can a person trek from Point A to Point B without staying overnight?
They requested MP Ladakh to address their concerns with the MHA so that they can amend the order and allow night stays.
ALTOA also informed that the DC office has started giving permits till Merak only. But the road connection from Pangong to Tsomoriri and Tsokar lake is a sought-after road journey by domestic and foreign tourists alike. The Maan -Merak – Chushul – Tsagala – Tsaga – Loma – Nyoma – Mahe was open for Tourism but was closed in 2020 due to the Indo-China standoff. 
"Now that the Indo-China standoff has deescalated, we request the Government to open this circuit for the promotion of tourism which will also promote border tourism in the region", ALTOA added. 
They further requested to open Chamser & Lungser peaks which were earlier open for domestic & foreign trekkers. Since 2015 the areas have been restricted by the Indian Army & ITBP.
ALTOA said that the early amendment on this issue will boost employment and the economic benefits will reach the far-flung border regions of Ladakh.