Advisor reviews Chadar Trek 2020 preparations
Stresses on safe disposal of waste along the trek route
By
Reach Ladakh Correspondent
Leh, Jan 07, 2020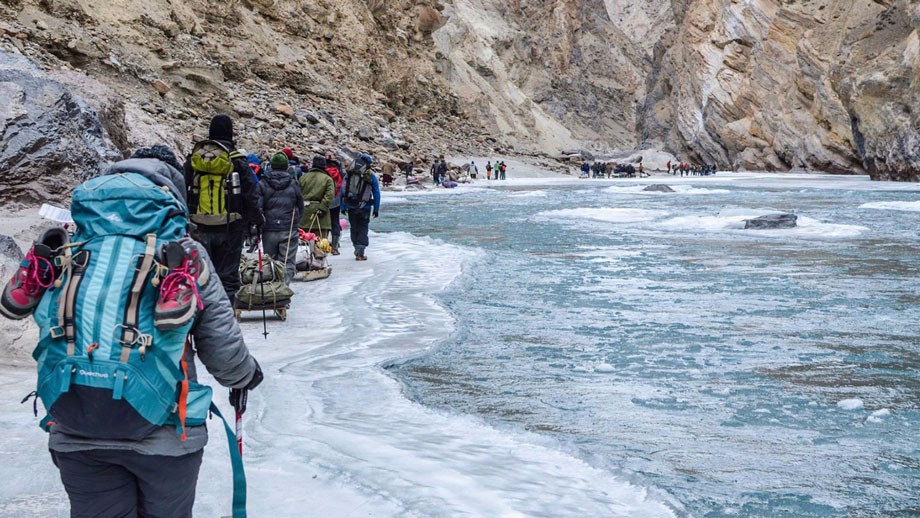 Leh :
 A meeting to review the preparations for Chadar Trek 2020 was convened by Advisor to Lieutenant Governor, Ladakh, Umang Narula on January 5.
The Advisor was briefed regarding the preparations for Chadar Trek 2020 made by the Administration, with the main objectives of ensuring the safety of the trekkers and mitigating the impact, of the trek on the environment. 
S.S Khandare, IGP Ladakh informed that mobile wireless handsets would be provided to all groups to ensure that they remain in constant communication. 
 
Two rescue Helipads will operate from Tiv and Shingra, en route the trek to deal with medical emergencies. Adm. Commandant Station Headquarter LSA 14 Corps assured that Army will activate the General Hospital, helipad of the army during the entire trek period to receive emergency cases. 
 
A decision was taken to deploy SDRF along with trained hired locals to undertake the rescue operations in coordination with the District Administration and Air Force. 
 
Umang Narula instructed mapping and cordoning off of vulnerable sites along the trek where the formation of ice is less or weak. Also, he said that an SOP should be issued to ensure the safety of the trekkers, which should cover all aspects such as Communication, First Aid, GPS, Smoke Candles and Orange Cloths for all tour operators besides other health and safety measures. 
 
Regarding the disposal of human waste, pre-fab toilets with deeply dug pits are installed along the trek to ensure safe disposal of human waste. Umang Narula suggested bacterial intervention to ensure decomposition of human waste.
 
Health department to devise an advisory for hypothermia cases which should be followed by the trekkers and their guides. Wildlife department is regulating the waste footprint of the trekkers by taking steps to ensure that the trekkers collect waste and bring it back on their return from the trek.