40 bikers participate in 10th apex adventure motorbike rally
By
Kunzang Chosdol
LEH, Oct 16, 2017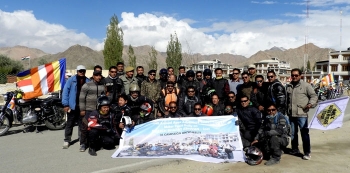 LEH :
With an aim to spread awareness about the traffic and safe driving, Apex Adventure organized 10th motorbike rally to Indo –China border villages on October 10 at Culture Academy Leh.
The rally of 40 bikers was flagged off by Stanzin Losal, Dy. SP. The five days motorbike rally also focused on the importance of cleanliness as a part of the national programme 'Swachta hi seva'.
Stanzin Losal said that the rally is a good initiative of Apex Adventure as they are also going to clean the tourist spot.
Rinchen Angdus, Owner, Apex Adventure said, "At the end of every tourist season, we have been organizing this bike rally on different themes. The tourist flow to the Changthang region is maximum this year so we are going to spread awareness about the importance of cleanliness, as a part of 'Swachta hi Seva' among the people of Indo-China border villages."
Stanzin Galdan, one of a biker, "This is the 10th bike rally in which we are going to cover Indo-China border villages of Changthang There are many villages where people don't know about the traffic rules and regulation and we are trying our best to promote it among them with an aim to lessen the case of accident and also spreading the message of cleanliness."
Tsewang Paljor, a biker said, "We will go to the zero border villages and try to implement and aware people about the importance of cleanliness. We will also clean the tourist spots and try to dump them accordingly at one place."
The bikers will cover different villages of Indo-China border in 5 days.