Zanskar Ice Hockey Association trains 200 student in Ice Hockey
Selected best 20 players and formed two teams
By
Reach Ladakh Correspondent
Kargil, Jan 31, 2019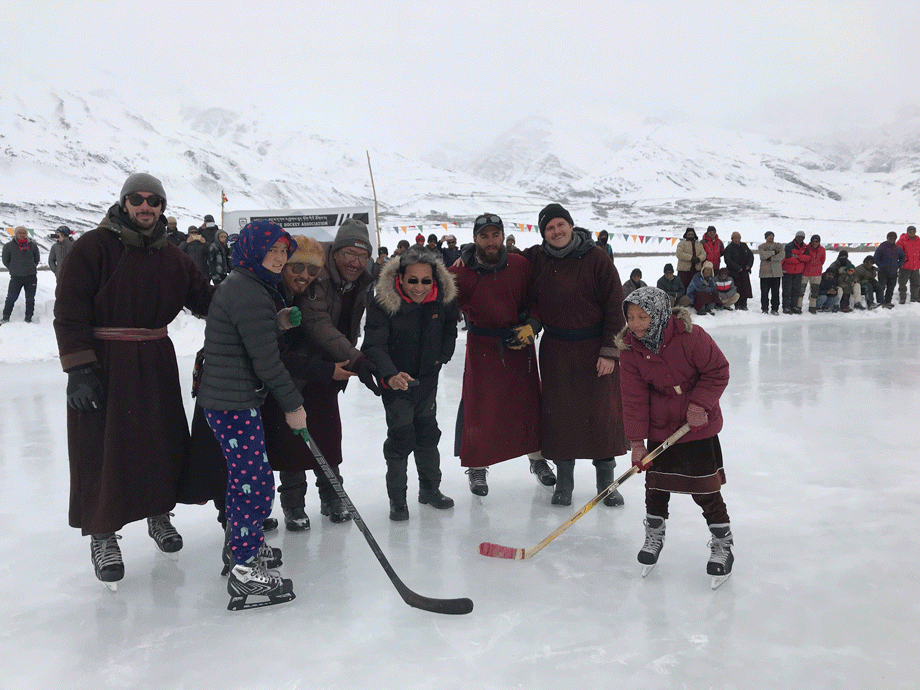 Kargil :
The first ever, 15 days long ice hockey training for the children under 20 years concluded on January 25 at Ice hockey rink, Jungkhor Gyapak, Zanskar.
The day started by observing two-minute silence prayer for the departed souls in the Khardongla avalanche.
Around 200 children including 120 girls and 80 boys were trained by the Canadian coach, Alexis Daudelin, Canadian team leader & Former Ice Hockey coach of Indian Women team, Corey Adams, USA HF Representative and Lewis Fourny.
The coaching camp was organised by Zanskar Ice Hockey Association. In a day 5 batch with 40 students in each batch were trained.
On a concluding day, Sonam Wangchuk, SECMOL was the Chief Guest and Tundup Namgyal, SDM Zanskar was the Guest of Honour. 
Stanzin Namsas, Founder, Zanskar Ice Hockey Association said that the aim of the coaching camp is to uplift girls of the Zanskar region in the Ice Hockey game and to enhance the talent and skills of the youths.
He said, "Most of the youths migrate and the girls are left with no further opportunity during the winter months in Zanskar. The ice hockey camp is to engage youths in an activity and develop the interest in sports."
Sonam Wangchuk donated ₹ 1 Lakh for the further development. 
Twenty best players of both boys and girls out of the 200 were selected and formed two teams.