Yaya-tso team clinches 4th CEC Archery Championship 2018 trophy
By
Reach Ladakh Correspondent
LEH, Dec 18, 2018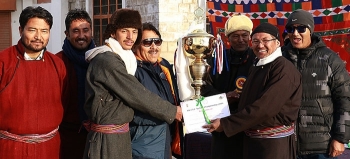 LEH :
A total of 12 teams including a male and female team of PAGIR participated in the 4th CEC Archery Championship 2018 at Indoor Stadium Leh on December 15.
Yaya-tso team won the championship cup followed by Pangong team, the first runner-up and Lalok team as second runner-up.
The archery championship was organised by Department of Youth Services & Sports, Leh in collaboration with District Archery Association, Leh.
Gyal P Wangyal, Deputy Chairman, chief guest appreciated the PAGIR team and women team for taking part in the championship.
He said that archery has always been a famous sport in the history of Ladakh and holds great traditional and cultural significance. He stressed on the role and responsibility of Sports Associations like District Archery Association in improving the standard of archery and to facilitate local aspirants with training and exposure matches outside Ladakh to excel in archery.
Also, he mentioned that sports like archery require modern and technically advance equipment to match the international standard.
He informed that Hill Council, Leh has decided to introduce archery as a sport in High and Higher Secondary Schools for which high-quality equipment have already purchased that will be distributed to the schools. Further, the Council is determined to encourage and explore the potential of local children in archery and provide them with the opportunity to compete at state and national level.
In individual matches, Rigzin Yontan of Pangong team held the first position, Mohd Arif of Khardong Team came second and Dorjey Namgial of Lalok team as third.
A special prize was awarded to two teams of men and women from PAGIR. Tsewang Dorjai was also awarded a special prize for being selected by Boys Sports Company Army on basis of the best archer from Ladakh to get trained in Archery Academy Shilong.