Wangyal convenes meeting regarding development of sports infra in Leh
By
Reach Ladakh Correspondent
Leh, Aug 02, 2019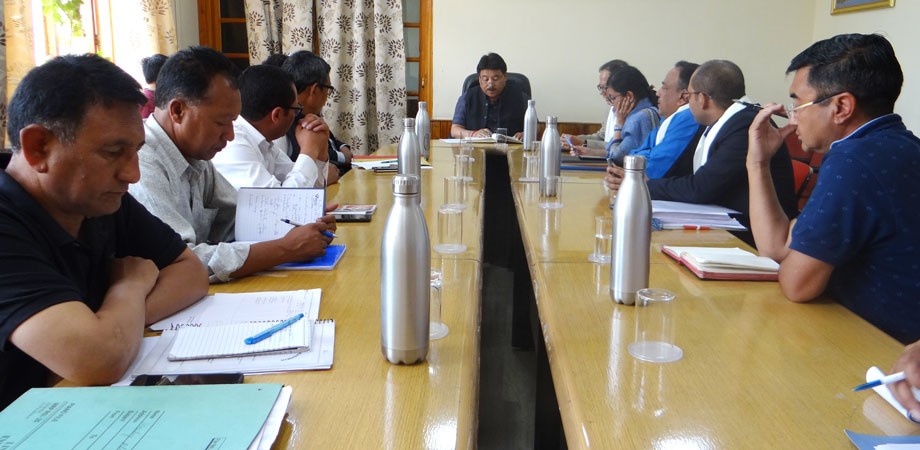 Leh :
A meeting regarding sports infrastructure development in Leh district was convened by Gyal P Wangyal, CEC on July 30. 
The meeting was attended by L.S Singh, Joint Secretary, Ministry of Youth Affair Department of Sports; Sanjiv Barawal,Director (Infra) Sports Authority of India; A.K Singh, Under Secretary Department of Sports; Chering Dorjay Lakrook, MLC ;Tsering Sangdup, Deputy Chairman LAHDC Leh;Phuntsog Stanzin,EC Agriculture; Mumtaz Hussain,EC Minority;  Avny Lavasa, DC/CEO, LAHDC;  Moses Kunzang,ADDC; Nissar Hussain,XEn Construction Division and Tsering Angchok, XEn R&B. 
L.S Singh and his team also visited the open stadium.
Gyal Wangyal talked about the remoteness of Ladakh region where people have to face many difficulties due to hard climate conditions as compared to other regions of the State and country. 
He further read out all the ongoing sports infrastructure projects of Leh District and submitted memorandum requesting recognition of Ice-Hockey at the national level as this is the winter sport of the region and has brought laurels to the country at international level by players from this very region. 
"Players have to face challenges regarding funds as well as finding job opportunities to earn their livelihood", he said.
In response, Joint Secretary Singh directed Sanjiv Barawal to complete the paperwork and submit them with the Ice-Hockey Federation in Delhi and assure for recognition at the earliest possible.
Assuring the request for a synthetic track at the open stadium, Singh further suggested for inclusion and strengthening of Kabaddi and Pro-Kabaddi sports which has greater scope for Ladakh and also demands less expensive equipment and large size fields, unlike tennis and volleyball. 
He also suggested for including training for sports of judo, wushu, taekwondo and boxing which have a good scope in future. 
In response to CEC's further request for construction of mini youth hostel, facilities for archery and athletics, completion of existing multipurpose hall, and construction of mini-stadium at all high and higher secondary schools and at the block level, Singh suggested for preparation of DPR related to the multipurpose hall for extension.
MLC Chering Dorjey highlighted the achievements and scope of games played in Ladakh like Ice Hockey, Archery, Marshal Arts, Long-run and football.