UNFCC and Ranstad India organises 'The Last Game' in Leh
Ice Hockey exhibition match played between team India and UNFCC
By
Tsering Dolkar
Leh, Jan 18, 2020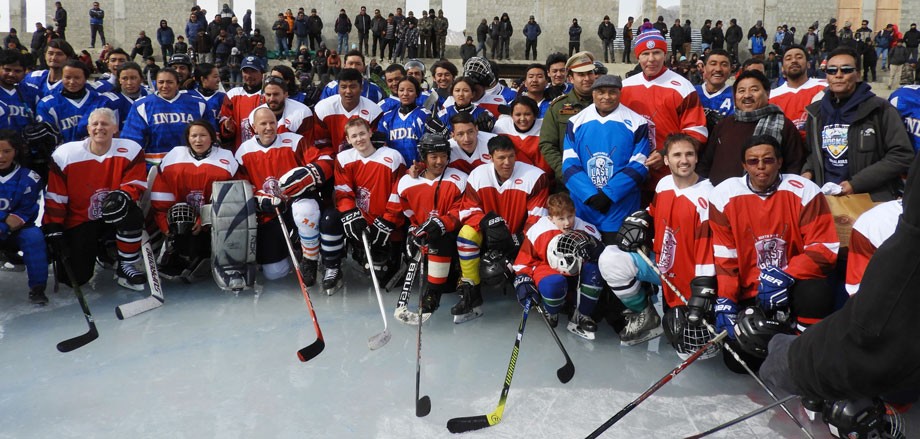 Leh :
Linking together sports and environment, 'The Last Game' a special game of Ice-hockey was played between India and representing team of United Nations Framework Convention on Climate Change (UNFCCC) on January 15 at Ice Hockey Rink, NDS Complex Leh.
The event was organised by the United Nations Framework Convention on Climate Change (UNFCCC) and Randstad in collaboration with the Hockey Foundation and Ladakh Winter Sports Club supported by Ladakh Women Ice Hockey Foundation. 
 
The UNFCCC has organised the Last Game at various parts of the world before and is also planning to conduct this game in Antarctica.
 
Paul Dupuis, CEO and Managing Director of Ranstad India said, "Sports builds friendship and communication and through this medium, we are telling stories to the world about the impact of climate change in the Himalayan region where the glaciers are receding at a very fast pace." 
 
Slava Fetisov, UN Environment Patron for Polar Regions and Russian Hockey legend spoke about the aim which is to aware people about the negative impact due to climate change.
 
R.K Mathur, Lieutenant Governor of Ladakh, who was the chief guest of the occasion, presented 'The Last Game' jersey to the Captains of both the Ice hockey team and the referees.
 
Talking about the Last Game, N.A. Gyapo, President, Ladakh Winter Sports Club said that it is organised to convey a message to the people that the ice might not freeze in the next winter to play hockey because of the rising temperature and depleting ice in the Himalayan region.
 
Gyal P Wangyal, CEC Hill Council Leh; Executive Councillors, Konchok Stanzin and Mumtaz Hussain; Sonam Wangchuk, Founding Director SECMOL & HIAL and many others were present.