Team Chiktan wins 1st BDC Ice Hockey Cup 
By
Reach Ladakh Correspondent
CHIKTAN, Feb 23, 2022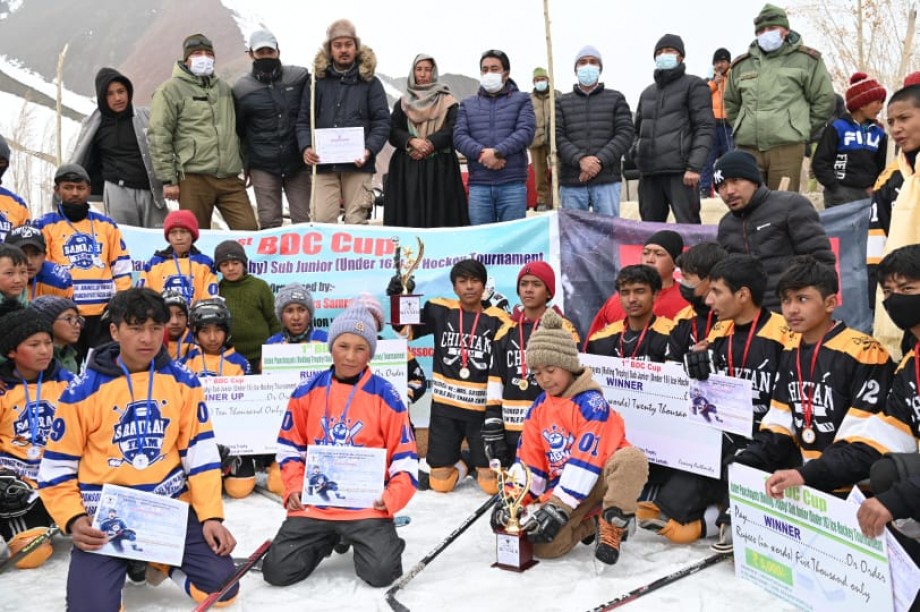 CHIKTAN :
1st BDC Cup Inter Panchayats (Rolling Trophy) Sub Junior (under 16) Ice Hockey Tournament concluded on February 22 in Samrah Chiktan. Team Chiktan won the match beating Samrah team by 3 goals. 
The tournament was organized by Panchayat Halqa Samrah in collaboration with Kargil Ice and Snow Sports Club, United Samrah Club and Shakar Chiktan Winter Games Association. A total of eight teams participated in the tournament.
Executive Councillor for Health, Mohsin Ali was the chief guest while Incharge SDM and Tehsildar Shakar Chiktan, Kacho Asgar Ali Khan was the guest of honor.
EC Mohsin extended his gratitude to organizers of the tournament for their initiative towards promoting winter sports. He said LAHDC Kargil is committed to providing financial assistance to players and students who want to achieve their goals in their respective fields. He urged the players to participate in the tournament with the spirit of team coordination and sportsmanship. 
Mohsin Ali also advised the players to strive for developing sportsman spirit which teaches them to accept victory or defeat in a graceful manner. He also advised players to focus on regular practice in Ice Hockey so that they can excel in the game and bring laurels to Kargil and the entire Ladakh region.
EC said in the past two years, winter sports are getting popular and athletes have displayed their sporting skills at various national events and brought laurels not only to Kargil but for the entire Ladakh region. He asked players to take maximum benefits under sports through subsidy components under the concerned departments.
Incharge SDM Kacho Asgar Ali Khan expressed gratitude over the participation of a large number of youth across Shakar Chiktan in the tournament and congratulated the organizers.
He assured that the sub-divisional administration will provide the best possible facilities to the teams from Shakar Chiktan who will participate in the upcoming district and UT level tournaments.              
Chairperson, BDC Shakar Chiktan, Syeedya Banoo said she is committed to promoting winter games in the sub-division and assured that Rs 5 lakhs has been allocated for next year for organizing the tournament.
She expressed gratitude to the organizing committee and the sponsors for providing Jersey for the ice hockey players.