Sarhad Kargil International Marathon 2022 is to be held on September 19
Training program ahead of the marathon was conducted for physical education teachers of schools and colleges in Kargil district
By
Reach Ladakh Correspondent
Kargil, Apr 16, 2022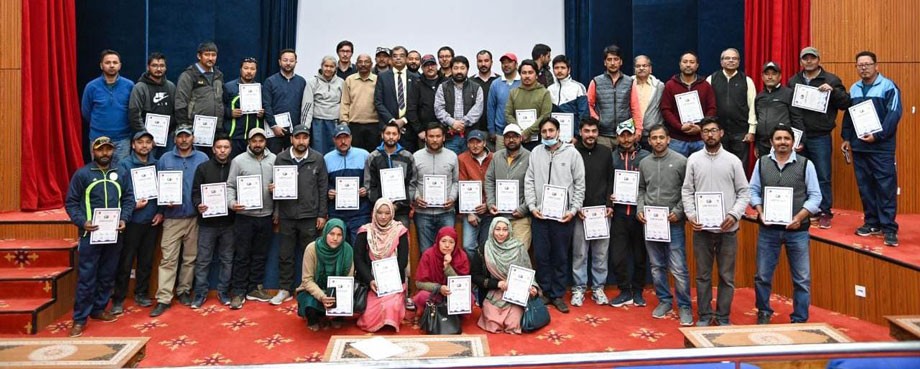 Kargil :
Sarhad Kargil International Marathon (SKIM) 2022 organised by Sarhad NGO, Pune and Ladakh Police in association with LAHDC, Kargil and District Administration, Kargil will be held on September 19.
A training program ahead of the marathon was held at auditorium hall Kargil on April 15.
EC Works, LAHDC Kargil, Aga Syed Abass Razvi thanked Sarhad Pune for organizing the SKIM 2021. He said that the marathon is aimed to promote sports in Kargil and take it to the next level. Razvi said LAHDC Kargil is committed to promoting sports in the district saying that there is no dearth of talent but youth only need training and guidance. He said that LAHDC will extend all the support to Sarhad for future marathons.
The training program which was part of a series of training sessions was held for physical education teachers of schools and colleges in the Kargil district.
Race Director of Marathon, Vasant Gokhalae said that the program was aimed to train the teachers so that they can impart the same training to the students at their respective schools.
"We have already held online training sessions and today was the offline session. The virtual training will continue until September," he said.
Earlier, the participating teachers were given a questionnaire about the training which they were asked to answer during the program. In the session, Muhammad Aliyas, Kalbi Hussain and Ibtikar Hussain got first, second and third positions respectively.
Naib Tehsildar (Magistrate 1st class), Mohd Hassan; ZPEO Kargil, M Ibrahim; General Secretary Olympic Association, Kargil, Mehraj-Ud-In Shah, Marathon's technical director Sumant Waikar besides officials of DYSSO Kargil were present.