LWHIF organizes Ice skating camp in Gya
By
Reach Ladakh Correspondent
GYA, Jan 04, 2018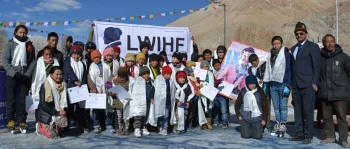 GYA :
A seven-day long ice skating camp organized by Ladakh Women Ice Hockey Foundation (LWIHF) in collaboration with Youth Association Gya- Miru was concluded on December 27.
Tsering Paldan, Councillor Igoo was the chief guest on the occasion.
The coaching camp was started on December 21 with 58 young participants. The partakers of the training camp participated in speed skating competition.
Tsering Paldan, Councillor acknowledged the organizers of this camp for coming all the way to Gya village and organizing such camps and training for the children.
Kunzes Angmo, President LWIHF said, "This camp was a part of village ice skating camp initiative done by Ladakh women ice hockey foundation to promote and encourage young athletes of Ladakh to partake in this sport."
In the last month, LWIHF organized such camp in Photoksar in collaboration with Govt. middle school, Photoksar where total numbers of 52 boys and girls participated. Also, a week-long training camp in collaboration with Lalok winter sports association in Durbuk village from December 11 to 17 was also organized in which 39 young boys and girls participated.