Leh United win 3rd Tip Top T20 Champion League 2018 in Leh
By
Rigzin Wangmo
LEH, Nov 16, 2018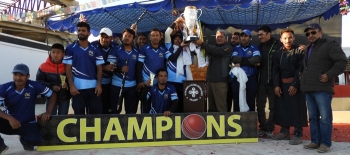 LEH :
Leh United lifted the 3rd Tip Top T 20 Champion League 2018 cup, beating Avengers by 58 runs on November 7 at NDS stadium.
The 3rd Tip Top T 20 Champion League 2018 was organised by Tip Top Sports & Culture Welfare Society Youth Wing Leh.
30 teams from different parts of the region including a team from Kashmir took part.
Leh United won the toss and batted first scoring 225 runs in 20 overs. While the team Avengers made only 167 runs.
Avny Lavasa, DC, Leh chief guest congratulated the Tip Top sports for organising the tournament. She said, "The message of no alcohol and smoking is important and promoting it through sports is an excellent idea".
"The sports cut across so-called divisions. One fine example is that the players from Kashmir have also taken part. Such sports activities could be a channel for promoting positive messages among masses", she added.
Mehraj Giri, Captain of the team Leh United said, "The team have come out and delivered their best. I am thankful to my team for playing such a wonderful game and winning the final match with ease."
Tashi Nurbu, Acting President, Tip Top Youth Wing informed that the purpose behind organising this tournament is to spread across the message of Alcohol & Smoke-free.
He said, "We could not facilitate more teams due to limited timing and facilities but the tournament is invariably successful with the support of spectators."
Stanzin Mingyur from Matho Sporting Club was conferred as an emerging player.
The winning team was awarded a cash prize of ₹50,000 and ₹30,000 for the runner-up team.
Resonance Music Hub & EJM college Mountain Crew performed during the closing ceremony.