Ladakh to host UCI Mountain Bike Eliminator World Cup
The international cycling event will be held in Leh on September 4, 2022
By
Reach Ladakh Correspondent
Leh, Feb 10, 2022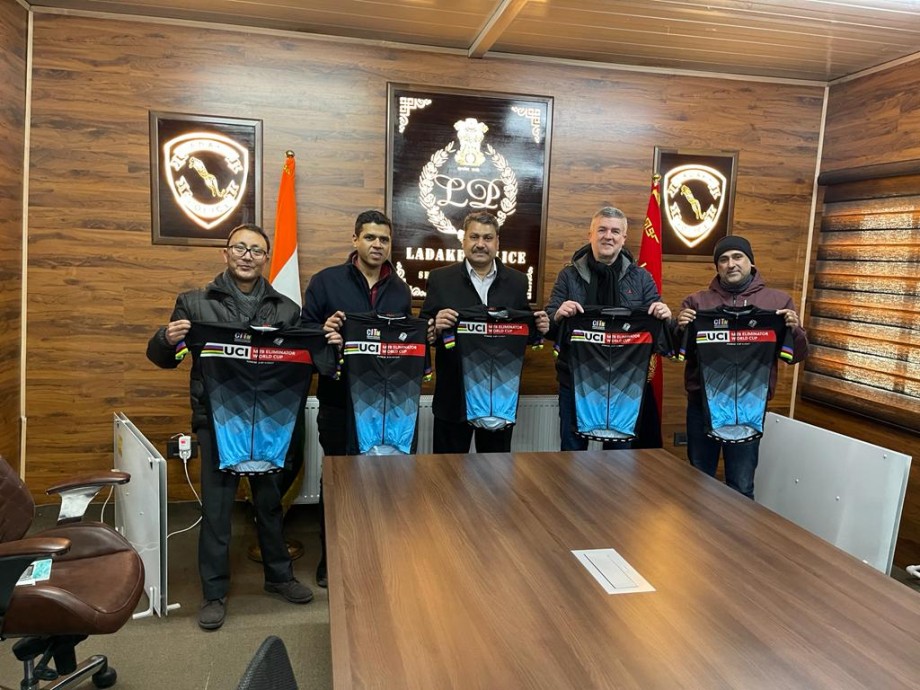 Leh :
Ladakh Police in collaboration with the Union Cycliste Internationale (UCI)and Cycle Federation of India will be oganising India's first-ever UCI MTB Eliminator World cup in Leh on September 4, 2022.
This was announced by S.S. Khandare, ADGP, Ladakh Police during a press conference on February 9. Kristof Bruyneel, General Director/Founder, City Mountain Bike, Rohit Sharma from Cycle Federation of India and Sachin Rustagi, Co-founder Edify Sports were present during the press briefing. The official event jersey was also launched.
 
S.S. Khandare said, "The vision is to promote Ladakh as an ultimate cycling destination and to introduce Ladakh at a global level.  This is our first step and we have collaborated with UCI, CFI (Cycling Federation of India) and Edify Sports to organise the first MTB Eliminator World Cup event in Ladakh. Cycling at this altitude itself is a challenge for cyclists all over the world. I hope the event will be a grand success."
"UT administration aims to take Ladakh to an international level such as the Tour de France and to promote local talent so that they get the international exposure", he added.
Kristof Bruyneel said, "As an organiser of the MTB Eliminator World Cup we are very pleased to open the new chapter in India because this will be the first World Cup on Indian soil. I think it will be a big challenge even for the intentional riders."
"September 4 will be a big show in the city centre of Leh with participants of international riders and Indian riders. More importantly, we will show the world the local culture of Ladakh", he added.
Informing about the registration he said that one can register themselves on the website citymountainbike.com. Amateur riders wishing to participate in the event will require a licence for competition through the Cycling Federation of India (CFI).