Ladakh Scouts wins 2nd edition of LG Horse Polo Cup
By
Reach Ladakh Correspondent
Kargil, Oct 12, 2022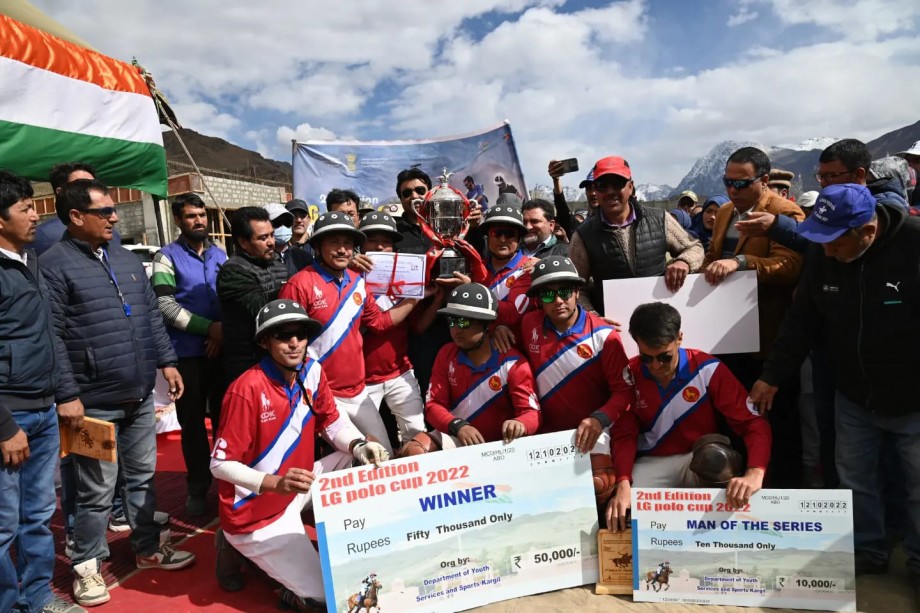 Kargil :
The 2nd edition of LG Horse Polo Cup 2022 was concluded at Horse Polo Stadium Goshan, Drass on October 12. The final match was played between Ladakh Scouts Regimental Centre Red Team and Himalayan-B Drass which was won by Ladakh Scouts Regimental Centre Red Team by a margin of 3-1 goals.
Chairman/CEC, LAHDC, Kargil Feroz Ahmad Khan expressed gratitude to Lieutenant Governor RK Mathur for taking the initiative for the revival of horse polo by introducing LG Polo Cup.
CEC congratulated all the 11 participating teams, especially the winner and runners-up teams who reached and participated in the final match. He stated that traditional horse polo as a game involves a lot of vigor and physical activity and needs to be promoted among the youth of Ladakh.
Khan said that efforts will be made to organize such traditional polo championships every year and polo teams should practice regularly.
Referring to Horse Polo Stadium Drass, he said it is one of the best grounds in Ladakh and informed that Rs 5 crore and 84 lakh have been sanctioned for the pavilion and other required infrastructure will be developed and improved.
He also congratulated the players from Leh, and Kargil districts, and organizing committees for their efforts in ensuring the successful conduct of the 2nd LG Horse Polo Cup at Drass. Earlier, he also expressed his condolences on the sad demise of Polo Player Mehraj Din.
Teams from different parts of Ladakh including Drass, Chuchot and teams of Ladakh Scouts and Animal Husbandry Department Leh participated in the 5-day tournament.