Ladakh School Olympics; Govt. Higher Secondary schools win rafting competition
By
Reach Ladakh Correspondent
Leh, Jul 23, 2019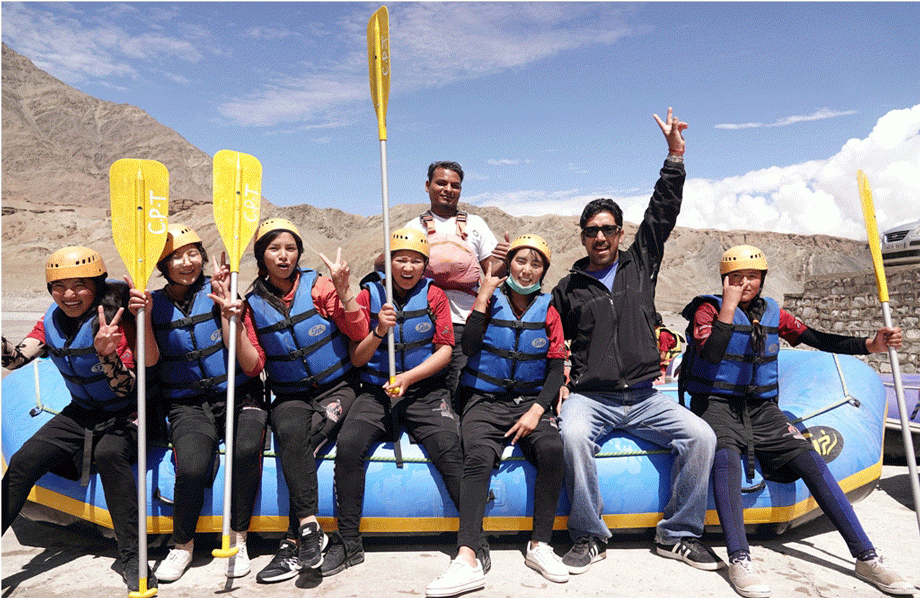 Leh :
Govt. Higher Secondary School, Saspol girl's team and Govt. Higher Secondary School, Sumoor boy's team won Ladakh School Olympics, 2019 rafting competition on July 20. 
The river rafting competition of school children covered a stretch of 8 km from Tsoksti till Sangam viewpoint in Zanskar River.
C Phuntsog, Vice-Chancellor, Ladakh Cluster University, chief guest  appreciated the initiative and efforts of district administration in organising the Ladakh School Olympics and including river rafting as one of the sporting event. He stressed on the need to give more attention to promote sports in the country to have greater participation in world Olympics. He said that Ladakh School Olympic is a step forward in this direction.
He further suggested the administration to involve both Leh and Kargil districts in Ladakh School Olympic from next year to ensure more participation and better competition. Congratulating the top three boys and girls team, he urged the students to inculcate the true sportsmanship spirit by learning to take victory without pride and defeat without remorse. He said that sports teach discipline, self-control, good manners, team spirit and promotes the holistic growth and to be a good human in life.    
Advisor to all Ladakh Rafting Organisation informed that the best 10 students selected from the rafting teams both girls and boys will be sent to Rishikesh for river rafting training this year. Besides, the selected students will also compete in the world highest rafting competition to be held in Leh this year. 
Expressing gratitude to Avny Lavasa, DC for including rafting in Ladakh School Olympic, he requested administration support to promote river rafting in Leh which has great potential.
In girls team, Govt. High School, Chuchot Shamma, Leh scored second and Govt. Higher Secondary School, Sakti third. In boys team, Govt. Higher Secondary School, Nyoma won second position and Govt. Boys Higher Secondary School, Leh scored third.