L-G discusses promotion of winter sports in Kargil
Also discusses present and future developmental activities
By
Reach Ladakh Correspondent
Kargil, Feb 03, 2020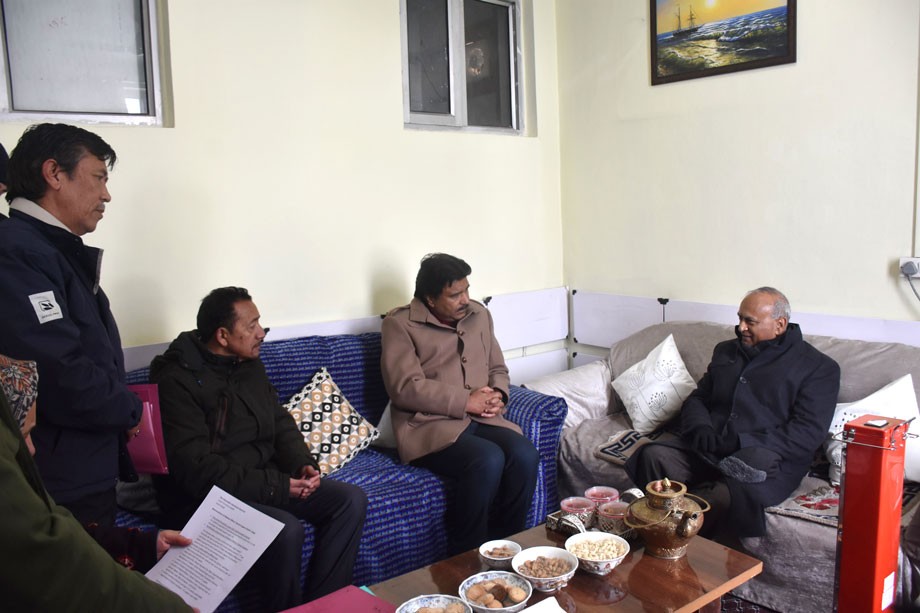 Kargil :
In the 11th CEC Ice Hockey Championship, 2020 Drass Red team defeated Friends Pashkum by 4-1 goals in the final match held at Ice Hockey Rink, Bemathang.
Radha Krishna Mathur Lieutenant Governor Ladakh was present during the concluding day.
 
Addressing the people, he said that UT Administration is fully committed to give impetus to winter sports in Kargil and efforts would be made to achieve this goal.
 
He said that the players of Leh and Kargil possess immense enthusiasm and talent in winter sports like ice hockey, archery as well as games like boxing and long-distance running. Concrete measures would be taken to encourage these young players to polish their talents by providing them sports infrastructure on modern lines, better coaching and medical facilities so that they are in a position to prove their mettle and bring laurels to Ladakh at the national and international level.   
 
Later, R K Mathur along with Feroz Ahmed Khan, CEC, Kargil; Baseer ul Haq Choudhary, DC Kargil and other concerned officers visited District Hospital Kargil. 
 
R K Mathur took stock of overall functioning and facilities of the hospital. He interacted with the patients and attendants and enquired about the facilities in the health institution.
 
He also took stock of the ongoing restoration works on the 3rd storey of the Trauma Unit which was damaged during a fire incident in December last year. Concerned officers informed about the status of the restoration work and requirement of funds to replace damaged machines as well as the purchase of fresh machinery and equipment for eye, ortho, gynaecology and other sections to improve health care. 
 
R K Mathur took a brief from the officers about various short and long term requirements of District Hospital. He said that the restoration of damaged equipment and appointment of as many doctors possible on contractual basis would be accorded top priority. Also, all the genuine problems brought out by specialists, Medical Officers, Paramedics and Contractual staff would be given due consideration.
 
About long term measures for strengthening health sector in Kargil district, R K Mathur said that provision of the budget has already been kept for up-gradation of 200 bedded hospital at Kurbathang to a 300 bedded hospital. This can pave way for the establishment of a medical college along with the hospital in the district and will prove instrumental in producing qualified doctors and health specialists from the district itself.
 
Meeting with the CEC and the Executive Councillors of LAHDC, Kargil, DC Kargil, SSP Kargil and the district officers with the Lieutenant Governor were also held. Several issues about the present status of ongoing developmental activities in Kargil district and future developmental plans were discussed.
 
A group of delegation including Panchayat Association Kargil, District Congress Committee Kargil, BJP Yuva Morcha Kargil, delegations from Shakar Chiktan and Sankoo Sub Divisions and Sarpanch Halqa Parkachik, Contractors Association Kargil and other met LG Ladakh and submitted their grievances and demands for redressal.