Kharu win 15th CEC Cup Women's Ice Hockey Championship 
By
Reach Ladakh Correspondent
Leh, Feb 16, 2022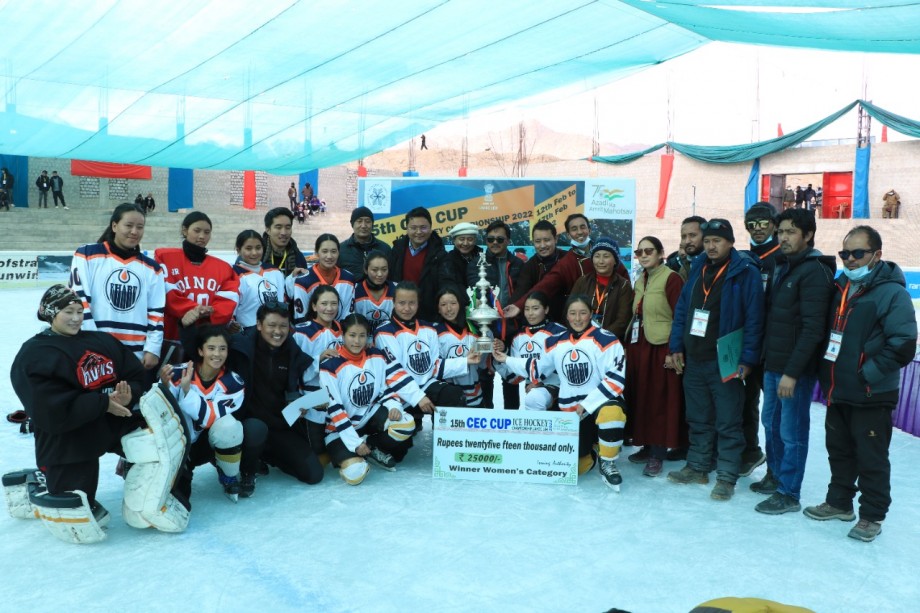 Leh :
Team Kharu won the 15th CEC Cup Women's Ice Hockey Championship beating Lalok team on February 15 at Ice Hockey Rink, NDS sports complex, Leh.
The tournament was organized by the District Youth Services & Sports Department in collaboration with Ladakh Winter Sports Club Leh. Seven teams participated in the 15th CEC Cup Women's Ice Hockey Championship 2022.
Deputy Chairman, LAHDC Leh, Tsering Angchuk congratulated the winner as well as the runner up teams and extended his best wishes for their future. He appreciated Kharu team and Lalok team for their consistent placing in the final CEC Cup Ice Hockey Championship matches since last year. He advised the players to inspire and motivate the young generation to take up this sport. He also informed that Hill council Leh is working tirelessly to develop this sport to an international level. 
He also lauded the tireless efforts of Ladakh Winter Sports Club and the Department of Youth Services and Sports in organizing such tournaments in Ladakh. 
Executive Councillor for RDD, Tashi Namgyal Yakzee; Executive Councillor for Agriculture, Stanzin Chosphel; Executive Councillor for Minority Affairs; Ghulam Mehdi Ashoor were the guests of honour on the occasion. Councillors Konchok Stanzin, Mirza Hussain, Sonam Thardos, Ven Konchok Tsephel were also present.