Kargil all set to conduct CEC Ice Hockey Championship, 2018
11 teams from within and outside the district will be participating
By
Reach Ladakh Correspondent
KARGIL, Feb 02, 2018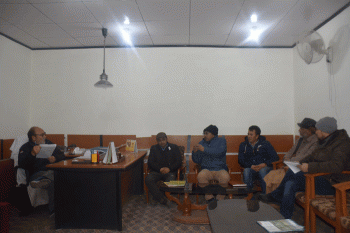 KARGIL :
Review meeting for the preparation of to be held CEC Ice Hockey Championship, Kargil was convened by Kacho Ahmad Ali Khan, CEC on January 23 in Kargil.
The 3-day championship will be held in the last week of January at Bemathang Ice Hockey rink. Around 11 teams from within and outside the district will be participating.
In the meeting, a discussion was carried on the boarding, lodging, and transportation of players, Medicare, and other necessary facilities during the championship.
Kacho Ahmad Ali Khan, CEC Kargil directed concerned officers to put in place all requisite arrangements well in time so as to ensure successful conduct of the event.
Highlighting Hill Council's efforts to make Kargil a winter sports destination, Kacho Ahmad Ali Khan said that the event is a precursor towards the accomplishment of this goal. He urged upon the agencies involved to maintain high sporting standards and discipline during the event.
He said that the present Council is highly committed towards the promotion of sporting events in the district and all efforts are being made to overhaul the overall sports scenario.
Muhammad Hussain Akhone, EC Health, Haji Gulzar Hussain, Deputy Commissioner, Muhammad Hussain Rehnuma, District Youth Services and Sports Officer, Vice President Ice Hockey Association, Chief Planning Officer Kargil besides other concerned officers were present in the meeting.