Inter-school tournament concludes at Taisuru
36 government and private schools participated in 3-days long tournament 
By
Reach Ladakh Correspondent
Kargil, Oct 06, 2022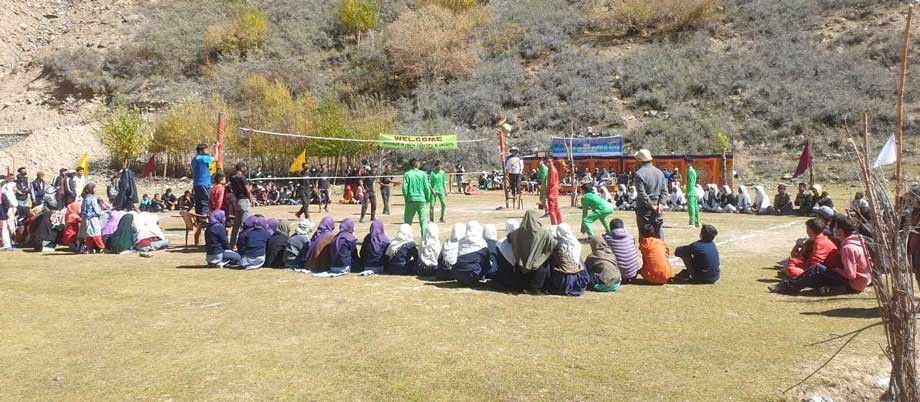 Kargil :
72 teams including 580 boys and 500 girls of the Under-14 and Under-17 age group from 36 government and private schools participated in a 3-days long Inter-School Tournament 2022 held at Thulus Spang, Taisuru. The tournament concluded on October 5. 
In the final match, the U/17 boy's volleyball tournament, Govt. High School Kargee defeated Noon Public High School Taisuru. 
Mohd Ishaq Jarnail, Zonal Physical Education Officer highlighted that Taisuru zone has a shortage of PEM/PETs. He requested the Councilor, Taisuru, Aga Syed Abass Rizvi to take up the matter with the UT Administration and fill up the vacant posts of various schools on a fast-track basis. 
Mohd Ishaq also informed about Sports Stadium at Khawous, a divisional level Ice Hockey Rink at Yuljuk under SDP which will be ready by the end of this year. 
The Department of Youth Services and Sports has developed sports infrastructure at two Higher Secondary Schools, six High schools, 14 Middle Schools, and four Primary Schools in Taisuru.
He thanked the Councilor and Tehsildar Taisuru Sajad Hussain for their support in the completion of SDP works.
Councilor Taisuru, Aga Syed Abass Rizvi said he will allocate funds to boost sports activities in the zone and emphasized the general public to generously provide land for the construction of sports infrastructure in the zone. He advised students to focus on their game of specialization and be consistent and work hard work which is important for becoming professional players. 
Chairman Teacher's Forum Kargil Ladakhalso stressed to the young players that being athletic and sportive is the need of the hour. He said there is no dearth of talent and many players have represented Ladakh in various national games which is noteworthy.
Councilor Taisuru, Aga Syed Abass Rizvi and Yahya Khan, and all other guests conferred 12 medals, 16 mementos, and 190 certificates to honor the winner and runner-up teams.