Grass-root coaching course in football held in Leh
By
Reach Ladakh Correspondent
LEH, Oct 30, 2018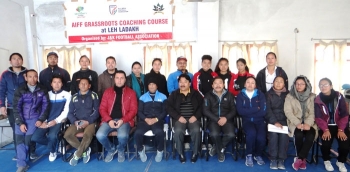 LEH :
To promote and develop football sports at the grassroots level, a coaching course of football for four days was started on October 26 at Kendriya Vidyalaya.
Grass-root football coaching course is a part of the Grass root programme of FIFA and is being organised by All India Football Federation (AIFF) in collaboration with J&K Football Association and District Youth Services and Sports Office Leh.
Gyal P Wangyal, EC Sports was the chief guest on the occasion.
Appreciating the step to come up with grass-root coaching course, Gyal P Wangyal talked about the importance of sports and its progress in the region. He highlighted the steps taken by J&K State Sports Council for launching the State Football Academy in 2017, and then the Women State Football Association last year. The women football players brought laurel to the region by winning the State Football Association tournament recently.
He said, "The Council strongly feels that the Ladakh region should get its due share in sports and therefore, along with football, we also approached for cricket. Recently, cricket players of Ladakh are selected for state-level training."
He further requested the representatives from FIFA, AIFF, and JKFA to give every possible chance and guidance to the sports players of Ladakh.
Addressing the participating Physical Education teachers and sports playing students, he urged them to draw optimum benefit from these training days to impart it further to their students in their respective schools and wished them success in their endeavour.
Bilal Ahmad Panjabi, FIFA Development Officer, and Asstt. Gen. Secretary J&K Football Association, Intikhab Alam, AIFF Instructor, and Phuntsog Wangyal, Principal KV School were also present.
Appreciating the works of Coach, Tsering Tsomo, Bilal Ahmad said that Ladakh has potential but needs direction to cover further distance in this field.
Tsering Tsomo, coach informed that players could not participate out of Ladakh due to lack of funds. Gyal P Wangyal gave directions to submit expenses of such nature so that it can be placed in the plan.
Bilal Ahmad Panjabi and Intikhab Alam spoke about football and its opportunities.