First BDC ice hockey cup kick starts at Chiktan
A total of eight teams are participating in the tournament
By
Reach Ladakh Correspondent
CHIKTAN, Feb 19, 2022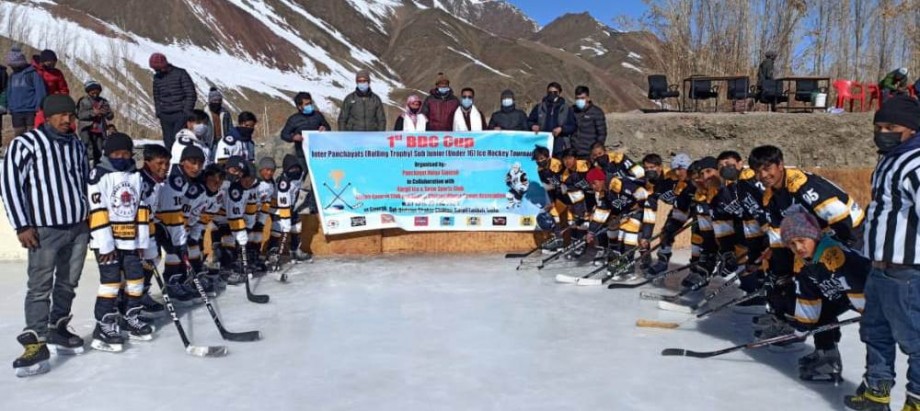 CHIKTAN :
Team Chiktan won the opening match of the 1st BDC Cup Inter Panchayat (Rolling Trophy) Sub Junior (under 16) Ice Hockey tournament on February 19 at Samrah Chiktan. 
Team Bodh Kharboo lost the match. Incharge, Sub Divisional Magistrate Shakar Chiktan, Kacho Asgar Ali Khan inaugurated the tournament. A total of eight teams are participating in the tournament.
The tournament was organized by Panchayat Halqa Samrah in collaboration with Kargil Ice and Snow Sports Club, United Samrah Club and Shakar Chiktan Winter Games Association.
SDM, Kacho Asgar Ali Khan appreciated the organizing committee for conducting such winter games and expressed gratitude to the BDC for allocating funds for the same.
Chairperson, Block Development Council (BDC), Shakar Chiktan, Syeeda Banoo said that she is committed to promote winter games in the sub-division and assured that Rs 5 Lakh has been allocated for organizing the tournament next year.
She also expressed gratitude to the organizing committee and the volunteers for providing Jersey for the ice hockey players.
 PRI members, ice hockey players and residents were present during the inaugural ceremony.
Sarpanch Samrah, Muhammad Ali Khan also spoke on the occasion and expressed gratitude to the organizing committee and the BDC for tournaments.