3rd Ladakh Polo festival begins in Chuchot
By
Kunzang Chosdol
CHUCHOT, Jul 12, 2018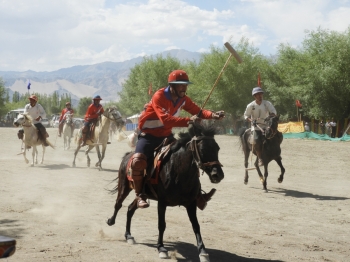 CHUCHOT :
To revive the traditional game of Ladakh 'Polo', the 3rd Ladakh Polo Festival was organised by Indus Chuchot Polo Club in collaboration with J&K Cultural Academy, Leh from July 11 to 17 at Shagaran, Chuchot.
The inaugural function of the polo festival was held on July 11 which was inaugurated by chief guest, Mumtaz Hussain, EC Animal Husbandry and Councillor Chuchot.
The opening match of the polo festival was played between Chuchot polo club and Ladakh Scout Red in which the latter bagged 8 goals defeating Chuchot Polo Club.
The weeklong festival was started with a procession showing traditional dress, culture and apo ape dance which is famous in Chuchot particularly during Ladakhi New Year 'Losar'.
Appreciating the initiative for organising the polo festival in Chuchot by Indus Chuchot Polo Club, Mumtaz Hussain said that it serves as the source of income and promotion of tourism in Chuchot thereby benefiting the homestay, and generate employment among the villagers.
Talking about developing the Shagaran ground, he said, "Last month ₹ 1 lakh was given to the organising committee to develop the ground. The DPR was submitted for the further upgradation of the ground and hoped that it will get sanction."
Haji Mohamad Raza, member Chuchot Polo Club who was also a gold medalist in Polo said, "The polo game has been declining in Ladakh which used to be very famous in the past. Earlier, people from different parts of Ladakh come to Shagaran Chuchot to play the game. After a gap of more than 30 years, we are trying to revive this tradition in Chuchot. Now it is the responsibility of the younger generation to promote and uphold the game in Ladakh."
Various Self Help Group, Women society and people exhibit their cuisine, art, culture and dress.