2nd LG Horse Polo Cup Championship to be held from October 8-12 in Drass
By
Reach Ladakh Correspondent
Kargil, Oct 05, 2022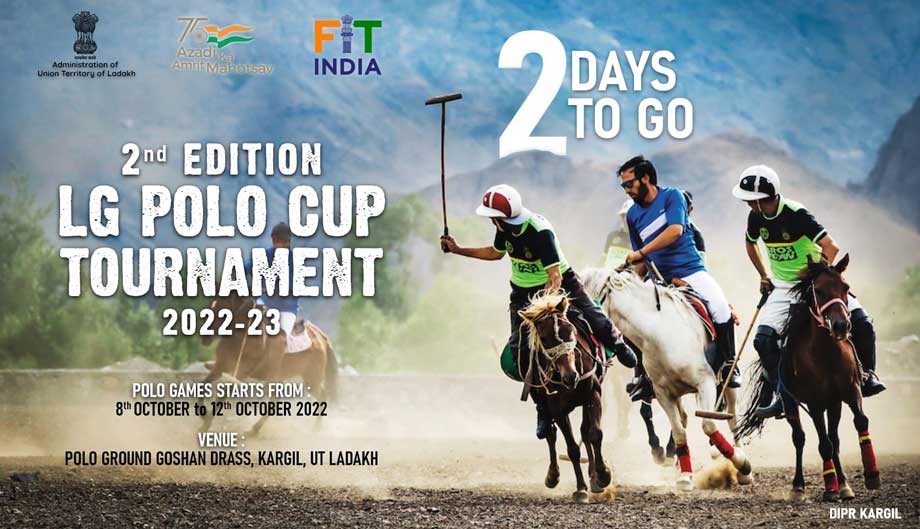 Kargil :
Secretary, Youth Services & Sports Department, Ravinder Kumar chaired a meeting with concerned officers virtually on October 4 regarding the 2nd LG Horse Polo Cup Championship 2022 to be held in Drass.
The Horse Polo championship will be inaugurated by Lieutenant Governor UT Ladakh, Radha Krishna Mathur on October 8 and will continue till October 12. 
It was informed that a total of 17 teams are expected to participate in the event including 10 from Drass, four from Leh, one from Sapi, one from Mundik, Bodhkharboo, and one from Gurez Valley of Bandipora, Kashmir.
A discussion was held on all the necessary arrangements and preparations related to the 2nd LG Horse Polo Cup Championship which will be organised by the Department of Youth Services and Sports, Ladakh in collaboration with District Administration Kargil and Polo Promotion Committee Drass.
Secretary Sports said that polo is a traditional game of Ladakh and to revive it the department is organizing the LG Horse Polo Cup at Drass for the second time. He said the event will promote sports among the youth of UT Ladakh adding that it will also promote the tourism sector and will bring Drass on the tourism map of India. 
He directed the concerned officers for the clearance of the polo ground, a deputation of a medical team from the health and animal husbandry department, invitation for college and school students and ethnic cultural groups. He also suggested inviting one ethnic-cultural group from Kashmir to the closing ceremony and directed the concerned officer to invite the best Horse Polo Team from Gurez, Kashmir to participate in the event.