12-days Ice Hockey camp for girls concludes in Drass
By
Reach Ladakh Correspondent
DRASS, Mar 05, 2022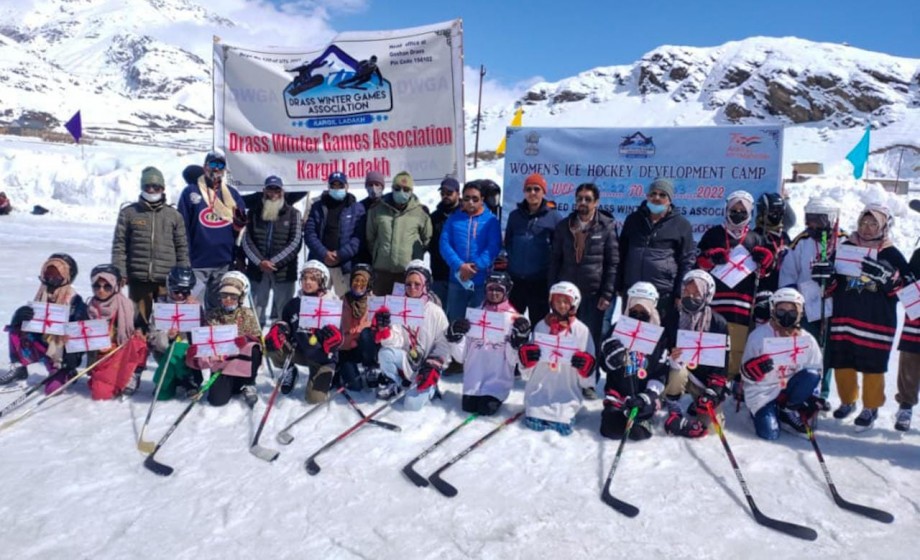 DRASS :
More than 24 girls between 6-15 years old participated in a 12-days long winter Ice Hockey development camp. The camp concluded on March 4 in Drass.
Organised by Drass Winter Association in collaboration with District Youth Services and Sports Department Kargil, the students were trained in basic and advanced stages to acquire various skills of Ice Hockey including Skating, Drills, Puck Handling, Games rules and other related skills.
Executive Councilor Health, Mohsin Ali congratulated the organizers for successfully organizing the camp and hailed the participants.
Highlighting the importance of girls' participation in every sphere of life, he said that the LAHDC Kargil is committed to extending support to them to achieve more in sports as well. He said that there is no dearth of talent in Kargil while correct guidance and support is needed.
Mohsin Ali stated that next year, many winter sports-related activities will be held in Drass at a large level as the place is an ideal place for winter sports. He extended best wishes to the budding players and advised them to take Ice Hockey sport as a serious career option and hoped that in the future these players will represent Ladakh on national and international platforms. 
DYSSO Kargil, Muhammad Hussain Rehnuma said that an international level Ice Hockey Rink is under construction at Drass. He also informed that winter sports academy will be constructed in Drass and for which land has been identified and in the coming season the construction work will also start. 
He said District Youth Services and Sports Office, Kargil, is committed to fulfilling the demands of players so that they represent Ladakh at various national and international platforms.