Zonal level science, mathematics & environment exhibition held at Sankoo
By
Mansoor Hosain Beigh
Sankoo, May 13, 2023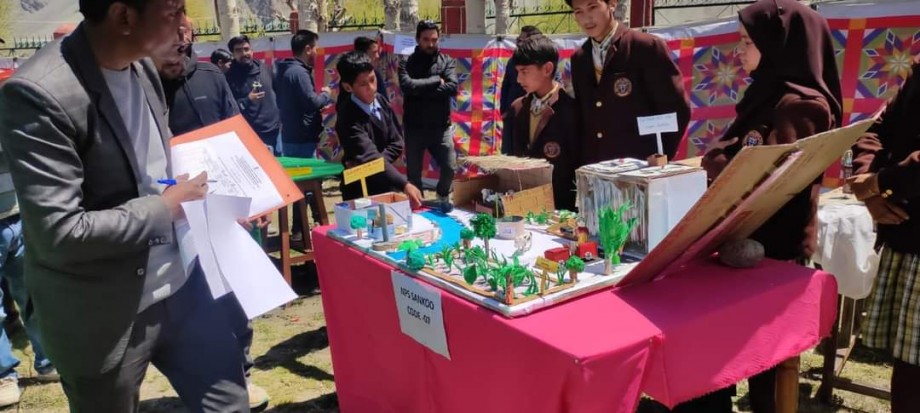 Sankoo :
Zonal Level Science, Mathematics, and Environment exhibition themed, 'Technology and Toys' was held at Government Higher Secondary School Sankoo on May 12.
The theme of this year's program was 'Technology and Toys' and sub-themes such as Advancement in Information and Communication Technology, Eco-Friendly Material, Health and Cleanliness, Transport and Innovation, Environmental Concern, Historical Development with current innovation and Mathematics for us.
Aga Syed Hyder Rizvi Memorial (ASHRM) Government Higher Secondary School Sankoo inaugurated the event.
The model exhibition of the session was examined and evaluated by three jury members that include Dr. Abid Hussain, Assistant Professor Zoology, and Manzoor Ahmad Bhat of GDC Kargil Sankoo campus, and one lecturer from Higher Secondary School, Biama. The Zonal-level Science exhibition focused on different themes and was adjudged accordingly after a detailed review by the panel of judges.
A total of four Higher Secondary Schools and 11 Govt. High Schools including two private institutions Mutaharry Public High School, Saliskote, and Noon Public High School, Sankoo participated and showcased their science models.
Out of the seven specified sub-themes, the students showcased 18 models under five sub-themes. In the sub-theme 'Eco-friendly material', GHSS Trespone, GHS Sankoo, and NPHS Sankoo secured first, second and third positions respectively.
In the sub-theme "Mathematics for us" GHS GMPore, Public High School, Saliskote, and GHS Sangra secured first, second and third positions respectively.
In the "Environmental concern; theme HS Tambis, HS Thasgam, and HS Bartoo secured first, second, and third positions respectively. Similarly, in the sub-theme 'Advancement in information and communication technology' GHSS Lankerchey secured first position, and in "Health and cleanliness" HSS Trespone and NPHS Sankoo, secured first and second positions respectively.
The top three positions in each theme shall be forwarded to CEO Kargil for further consideration for participation in District Level Science, Mathematics and Environment Exhibition.
Yousuf Ali, Lecturer Biochemistry (State Coordinator RBVP) briefed about the significance of the exhibition.
The principal of the institution in his speech appreciated and encouraged all the participating students and the escort teachers for their efforts in showcasing their hidden innovative ideas in the form of models.
He appreciated the efforts of teachers in conceptualizing the models for the display and urged students to focus on innovative ideas. The day-long program was managed by Mohd Akbar.