Youm-e-Ashura observes with solemnity in Leh
By
Reach Ladakh Correspondent
Leh, Aug 30, 2020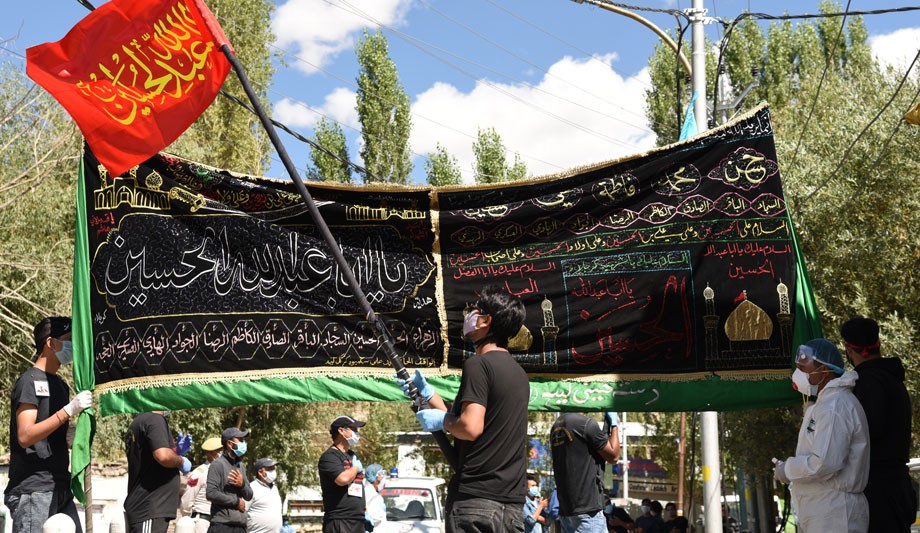 Leh :
Commemorating the supreme sacrifice of Imam Hussain (A.S) and his companion for mankind in the battle of Karbala, Youm-e-Ashura was observed with solemnity on August 30.
Shia Muslims beating their chest and reciting lamentation joined the mourning procession with strict adherence to COVID-19 SOPs put in place by the Administration.
The procession started from Jama Masjid Chutey-Rantak and passing through Leh main market, culminated at Immam Bargha Leh. 
Addressing the mourners, Imam Jama Masjid, Leh, Sheikh Abdul Qasim Mutahari spoke about the religious importance of the day. He stressed on promoting unity and harmony in the world and appealed people to pray for early eradication of COVID-19 pandemic from the world.
District Administration Leh made all the necessary arrangements to ensure strict implementation of measures such as sanitization of places, maintaining social distancing, wearing face masks, and other required measures. 
Muharram as always is observed with mourning by the Shia Community around the world in remembrance of the sacrifice of Imam Hussain (a.s) and his companions at Karbala.