Youm-e-Ashura observed at Sankoo with religious fervour
By
Mansoor Hosain Beigh
Kargil, Aug 10, 2022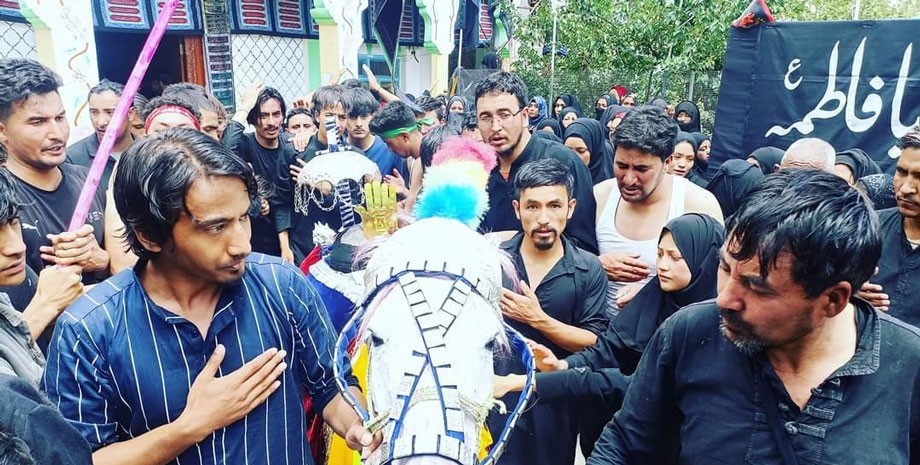 Kargil :
Observing on 10th of Muharram, processions under the supervision of Anjuman-e-Sahib Zama& Markaz-e-Tabliga Imam Raza was taken out in Sankoo on August 9.
The day marks the martyrdom of Prophet Muhammad's (SAW) grandson, Imam Hussein (AS), and his faithful companions in the battle of Karbala 1400 years ago.
Thousands of mourners took out Azadari procession with Alam-e-Hussain reciting nouha and beating their chest.
Religious scholars said that Imam Hussain offered supreme sacrifice and stood against tyranny.
 The day was also observed at village GMpore Kargil with great religious fervor. 
Addressing at Maktab-E-Shaib Zaman, Lankerchey, Akhoon Mohmmad Hussain stressed the teachings of Imam Hussain and said, Ashura symbolized the struggle against cruelty, injustice, and tyranny of Yazeed.
He also paid tribute to the martyrs of Karbala and prayed for peace and communal harmony in the region as well as in the world.
Youm-e-Ashura processions were also carried out in various villages of Sankoo subdivision including at Anjuman-E-Sahib Zaman Lankerchey,Trespone, Saliskote Kanoor Tambis, Sankoo Barsoo, Taisuru, Suru, etc.
Religious scholars threw light on the philosophy of Karbala and termed Karbala as a mission for humanism to establish peace and prosperity in the world. They also said that Karbala gives a message to entire humanity that whenever truth or rightness is being suppressed and evil or falsehood is promoted.
The congregations concluded by observing Zeyarat-e- Ashura.