Yarn Supply Scheme & Eco-Friendly Dyeing workshop for artisans of Leh held
Industries Dept. Ladakh collaborates with National Handloom Dev. Corp.
By
Reach Ladakh Correspondent
Leh, Jul 24, 2022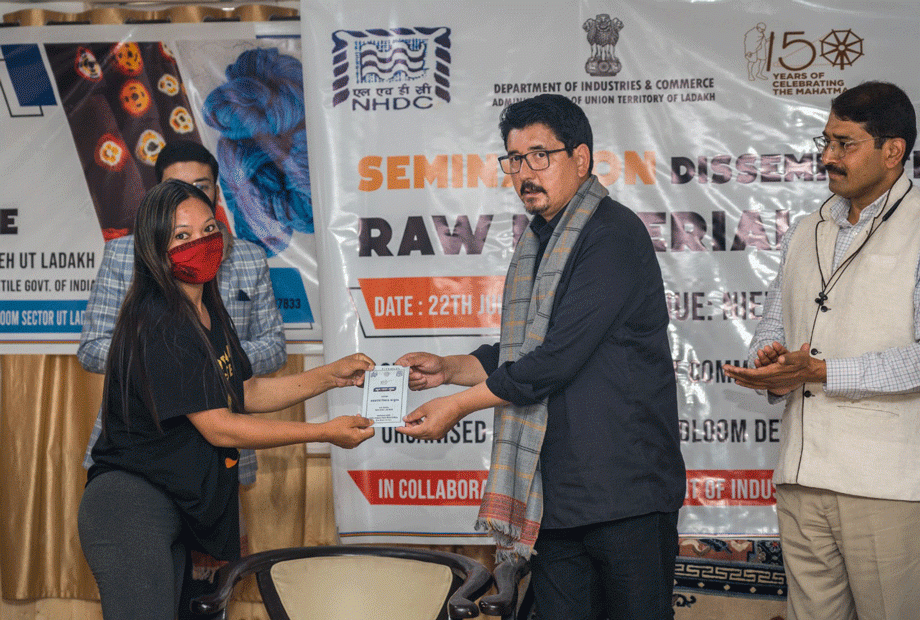 Leh :
Industries & Commerce Department Ladakh in collaboration with National Handloom Development Corporation Ltd (NHDC) organised a training workshop on Raw Material Supply Scheme (RMSS) for weavers of Handloom and Handicraft Department Leh on July 22.
CEC, LAHDC, Leh, Tashi Gyalson stressed the need to set up a sustainable industry in the handloom and handicraft sector of Ladakh. He added that such a programme would help and encourage local entrepreneurs knowing that Ladakh has a huge potential in developing this sector. He also appreciated the steps taken by UT Administration Ladakh in providing a good platform for Ladakhi entrepreneurs at various levels. "Hill Council, Leh is working collectively to encourage local entrepreneurs in this sector by providing adequate subsidies on various machinery and equipment.
The department of Industries will soon secure GI tagging of various products including Pashmina, seabuckthorn, etc. he informed. Ladakh needs to grab the opportunities provided to up-skill and scale up their growing businesses," stated CEC Gyalson.
Commissioner/Secretary, Industries and Commerce, Ladakh, Saugat Biswas stated that more beneficiaries should be identified for the scheme. He reiterated that this sector shall be infused with the latest technology, machinery, and qualitative value addition for the maximum benefit of the trainees. Weavers will learn marketing skills to promote their products and will also be given extensive training that shall enable them to make their mark in the global market.
He extended gratitude to the Development Commissioner, Handlooms, and the MD NHDC for commencing engaging activities with the artisans of Ladakh at a quick call of the Department of Industries, Ladakh. The NHDC has deputed an officer to Ladakh for coordinating engagements with the artisans of Ladakh during the summer months, he informed.
The seminar concluded with a demonstration by the NHDC team on eco-friendly dyes and natural dyes wherein the participants learned their application methods and different properties. Yarn passbooks were also distributed to the beneficiaries with which they can claim subsidies on the direct purchase of yarns and dyes from the mills.