Y-20: More than 100 delegates from around 30 countries to attend the pre-summit meeting
By
Reach Ladakh Correspondent
Leh, Apr 26, 2023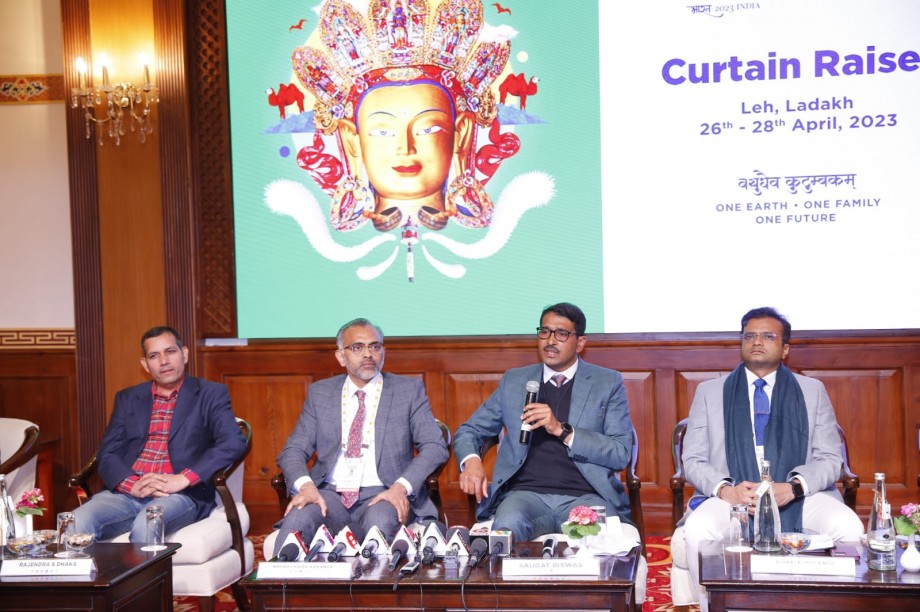 Leh :
The Y 20 Pre Summit Meeting under G20 hosted by Ministry of Youth and Sports Affairs begins and more than 100 delegates attend the meeting. The meeting is being organised from 26 to 28 April.
Nagaraj Naidu Kakanur, Joint Secretary G20, Saugat Biswas, Divisional Commissioner, Ladakh; Pankaj Kumar Singh, Director, Youth Affairs; Manish Gautam, Director, PIB;  Falit Sijariya, Representative of Y20 India Secretariat and Prof. Rajendra S. Dhaka, Chairman Indian National Young Academy of Science (INYAS) addressed the media at the Curtain Raiser of Y20 Pre-Summit on April 25  in Leh.
Briefing the media, Joint Secretary, G20 Nagraj said that this engagement is primarily to deliberate on the issues which concern the world's youth. It is a tremendous opportunity for India to have a pre-summit meeting to be hosted in Leh where more than 100 delegates from more than 30 countries are participating, he said. This year G20 is being organised under India's presidency on the theme "One Earth One Family One Future". 
He said, Youth of today are very concerned about their future, there is a heavy emphasis on climate change because this is the planet that is to be inherited by them in the future.
Also, there is a lot of focus on health and sports. He added that Youth is participating from all over the world and tomorrow they have the opportunity to experience Leh and its beautiful culture.
Director, Ministry of Youth and Sports Affairs, Pankaj Kumar Singh said that these engagement groups are more about people-to-people participation. It gives a platform where we invite young leaders who are interested in different thematic areas. This pre-summit is part of the engagement process this year under India's presidency. He also said that Pre-Summit is being organized in Leh-Ladakh from 26th April – 28th April 2023. The meeting will bring together leading experts, decision-makers, and youth leaders from G20 Countries to discuss and formulate actionable plans for the growth and development of the people. The meeting will focus on the five Y20 themes of  Shared Future: Youth in Democracy and Governance; Future of Work: Industry 4.0, Innovation & 21st Century Skills; Climate Change and Disaster Risk Reduction: Making Sustainability a Way of Life; Peace Building and Reconciliation: Ushering in an era of No War and  Health, Wellbeing & Sports: Agenda for Youth.
He also said that the Summit will provide a platform for open discussions, presentations, and interactive sessions that will focus on addressing the challenges faced by young people and formulating a roadmap for their development.
Pankaj Singh also said, "We have partnered with 14 universities of this country where we have held negotiations where international students and speakers have participated. To extend the reach of Y20 events, the Y20 secretariat has organised Jan Bhagidari events." He also informed that the Y20 Pre-Summit will be graced by the presence of  Minister of Youth Affairs and Sports Shri Anurag Singh Thakur and Lieutenant Governor of Leh-Ladakh Shri Brig. (Dr.) B.D. Mishra (Retd). The Summit will also have parallel Deliberation & Negotiation sessions on each of the Y20 themes.
Saugat Biswas, Divisional Commissioner, Ladakh said that the Leh administration has provided all support to make the engagement meeting a grand success. He said that the education department has organised several events, quiz competitions, discussions to engage youth on themes of climate change and sustainability and a lot of Jan Bhagidari activities have been organised in schools, and colleges to engage youth. He also said that in line with the PM's vision of Carbon neutral Ladakh,  delegates have been provided electric buses. The delegates were also given a traditional welcome at the Airport to showcase the culture of Leh.
Falit Sijariya, Representative of the Y20 India Secretariat said Y20 has tried to communicate and collaborate with other youth engagement platforms across the globe and become the collective voice of the global youth. Because of India's G20 presidency, what we are trying to achieve is becoming a bridge between the global north and the global south and with the Y20 pre-summit we have been able to have participation from all the different segments to try to fulfill that agenda.
India assumed the G20 Presidency on 1st December 2022 for a period of 1 year i.e. upto 30th November 2023. India's theme for its presidency is enshrined in its civilizational value system of 'Vasudeva kutumbakam'. Hence our theme - 'One Earth, One Family, One Future'.
Under the framework of the G20 Presidency, Department of Youth Affairs, Ministry of Youth Affairs & Sports, Government of India will organize Youth 20 Summit-2023. Youth20 is one of the official Engagement Groups of the G20. The Youth20 (Y20) Engagement Group is organizing discussions pan-India, to consult the youth of the nation on ideas for a better tomorrow and draft an agenda for action. Y20 will provide a platform for youth to express their perspectives and ideas on G20 priorities.
The Y20 Pre-Summit will provide opportunities for collaboration and networking with other stakeholders and contribute to the development of young people. All relevant stakeholders are expected to take advantage of this opportunity to learn, network, and engage with one another.
The Y20 Pre-Summit is looking forward to active participation from youth delegates so as to turn this into a meaningful and exciting event.