Workshop on Winter-Friendly Engineering, Technologies & Skill Development held
By
Reach Ladakh Correspondent
Leh, Apr 14, 2023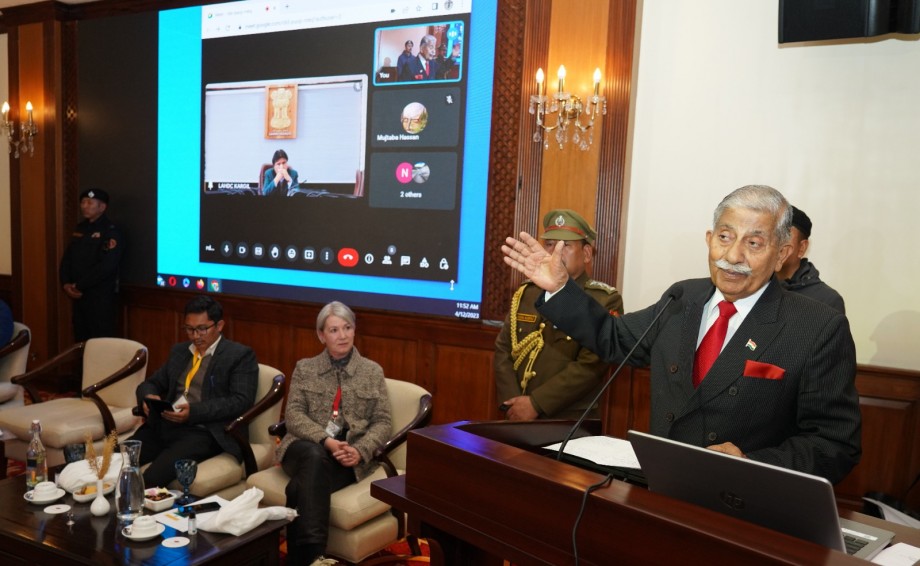 Leh :
Two-day workshop on Winter-Friendly Engineering, Technologies, and Skill Development organised by the Public Works Department, UT Ladakh in collaboration with Danish Consortium For Academic Craftsmanship was inaugurated on April 13 in Leh.
Attending the inaugural function, Lieutenant Governor of Ladakh, Brigadier (Dr) BD Mishra (Retd) highlighted the issue of climate change and stressed the need to take necessary measures keeping in mind the welfare of future generations also. He reiterated the pledge of the Prime Minister of India, Narendra Modi, for a Greener Future for posterity.
L-G welcomed the cooperation with the Danish Consortium for Academic Craftsmanship for the conservation of energy and other necessary technological interventions to take Ladakh a step closer to achieving the goal of carbon neutrality. Citing the examples of initiatives taken by the government to provide LPG connections to all poor households along with buildings toilets to sensitize people about the importance of cleanliness, he stated that achieving the targeted technologies for Ladakh might be a gigantic task but it could be achieved through sincerity work on a mission mode. He emphasized the need for the participation of more officials from the Border Roads Organisation (BRO) and the Army to raise their awareness of these technologies.
He highlighted the importance of students in the fight for environmental protection and emphasized the need to provide practical knowledge to them instead of theoretical education. He also emphasized the need to implement winter-friendly engineering and technological interventions in Model Villages. He further emphasized the importance of public participation and action for the success of such engineering and technological interventions and to avoid over-reliance on the government.
LG stated that the developmental projects meant for the overall benefit of the people should be time-bound and result-bound along with result-oriented. He also informed about the plan to make Ladakh 'Corruption and Delay-Free.' He further wished for the success of the two-day workshop and hoped to see the result on the ground soon.
Lene Bonnen Sandholt, Head of International Relations, DCAC, informed about the Vocational Education and Training (VET) system in Denmark under which different types of vocational education are provided in skilled professions which are in demand in the labour market. She also informed that the majority of the VET programmes are practical training in an approved company or organization. He further informed about the basic programme, which is a school-based course where students alternate between school and apprenticeship.
Commissioner Secretary, PWD, Ajeet Kumar Sahu, informed that the workshop is a roadmap for Ladakh to achieve its goal to become a carbon-neutral region. He also informed about the objectives of the workshop along with the targeted technologies, viz. carbon neutrality, energy efficiency, space heating, insulation, water supply and skill ecosystem.