Women of Ladakh unites to celebrate 'International Women's day'
By
Hajira Bano Balkhang
Leh, Mar 11, 2015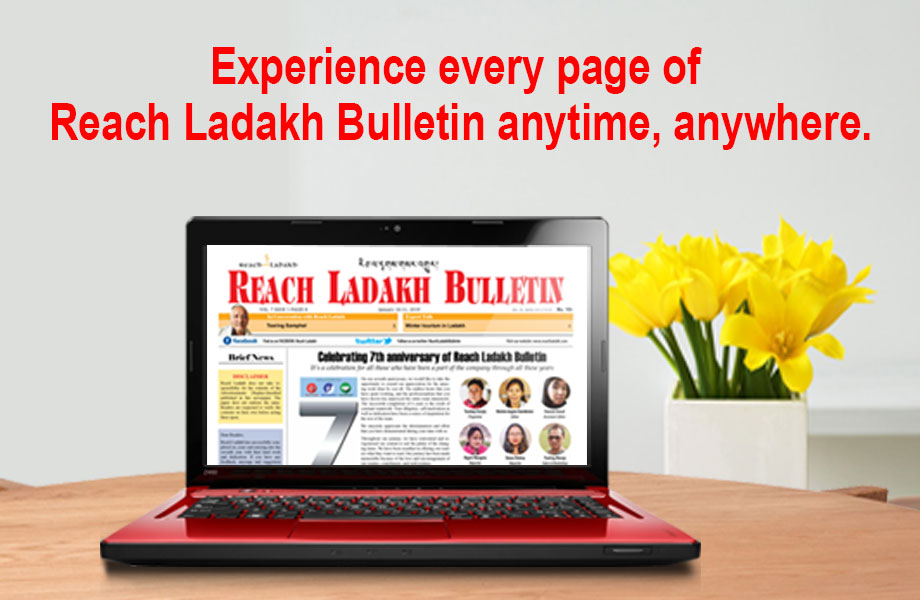 Leh :
International Women's Day was observed in Leh jointly by Women's Wing of Ladakh Buddhist Association, Anjuman Imamia Leh, Anjuman moin-ul-Islam and Christian Community at Sheynam Community Hall on 8 March.

This event marked a milestone in the history of Leh as for the first time the women's of all the four major religious celebrated this day thereby truly reflecting the communal harmony of Ladakh. The Chief Guest of the occasion was Spalzes Angmo, Judicial Magistrate Khaltse.

Presenting the welcome speech President , Ladakh Buddhist Association (Women Wing) Tsewang Dolma raised many issues like raktak, drug addiction among youth and crime against women and appealed every woman to contribute to making Ladakh an evil free society. She on behalf of presidents of all the religion ensured to celebrate this day every year with much zeal, unity and enthusiasm. Women folk of Ladakh also announced to start a mission called 'Ladakh rtsangma, Leh lakmo' to make Ladakh a cleaner and better place to live in.

Judicial Magistrate Khaltse Spalzes Angmo talking about the Rights of Women said that the government has provided all kinds of rights to women, but the only need is to get aware and utilise these rights. "There are different Laws and Acts for the different crime against women like eve teasing, domestic violence, rape and murder etc". She added that increasing 'Raktak' system in Leh might turn ugly and that day is not far when Leh will also witness demand of dowry and even dowry deaths.

She said that Leh has witnessed rapid development in technology. Most of the children even misuse these technologies. There is a need of self-censorship and that can be done by only giving moral education to the children.

Gynaecologist Dr. Kunzes highlighted about various schemes in hospital especially under National Rural Health Mission (NRHM) regarding mother and child health care. She further informed about the presence of well trained ASHAs in different villages so that women can freely talk to them regarding their health and also to receive proper health care during pregnancy till delivery.

Prof. Samina Iqbal stressed on providing education to girls and the importance of women representation in the LAHDC. She also emphasised on the need to have girls specific schemes and policies to ensure employment to women.

Tabida Dana threw light on importance of gender equality and justice. She said, "Women can play a crucial role to eliminate poverty, ensure gender equality and eliminate practices that are at blockage in the development of women. We all need to unite together to work for women empowerment". She also cited examples of many successful women of Ladakh and appreciated all the self help groups of Ladakh who are working to empower and uplift the status of women.
Stanzin Dolma a student while expressing her views requested all the parents to spend quality time with their children and talk to them regarding issues concerning their lives. "During adolescent age children face many physical and psychological changes that can sometimes lead them on the wrong path. It is crucial that during that stage parents talk to them and understand their issues."

Inspector Parveen Akhter said that crime rate in Leh is very low as compared to rest of the country. She further added, "Under Operation Julley, district police Leh has launched a Ladies helpline number to ensure safety of women and under this mission all the outsiders coming to Leh will be verified in the police station so that no unusual incidents would happen". She appealed the women not to remain silent and come forward to file a complaint if she faces any kind of harassment in their homes as well as outside. Talking about one rape case in Leh, Parveen Akhter said that the culprit has been punished 08 years in prison and a fine of Rs. 10000. She said that this has been possible only due to the support of the victims. She appealed all the women to come forward and cooperate with police.

Kaniz Fatima stressed in providing moral education and values to the children that begin with the family. She requested all the women to inculcate true family values in their children and also to spend quality time with family to avoid the gap between their children. She emphasised that everyone needs to work together for building up of a good society.

During the event Anchor Diskit Dolma also read out the letters and messages sent by President and representatives of different Religious Organisation and Hajira Bano Balkhang gave a PowerPoint presentation about some of the prominent women personalities of Leh who have served in different fields and has contributed in the society.

Performances by Padma Dolker, Sakina Khanam, Tsering Chorol, Tsering Angmo and Tsewang Dolker added more spark to the day.

In the end, Fatima Bano, President Anjuman moin-ul-Islam (Women Wing) presented the vote of thanks and appealed all the women to work together to improve the status of women.
Women also gave suggestions and raised issues regarding women.