With focus on organic farming, 'Go Green, Go Organic' works well in Lalok
By
Kunzang Chorol
LEH, Apr 29, 2016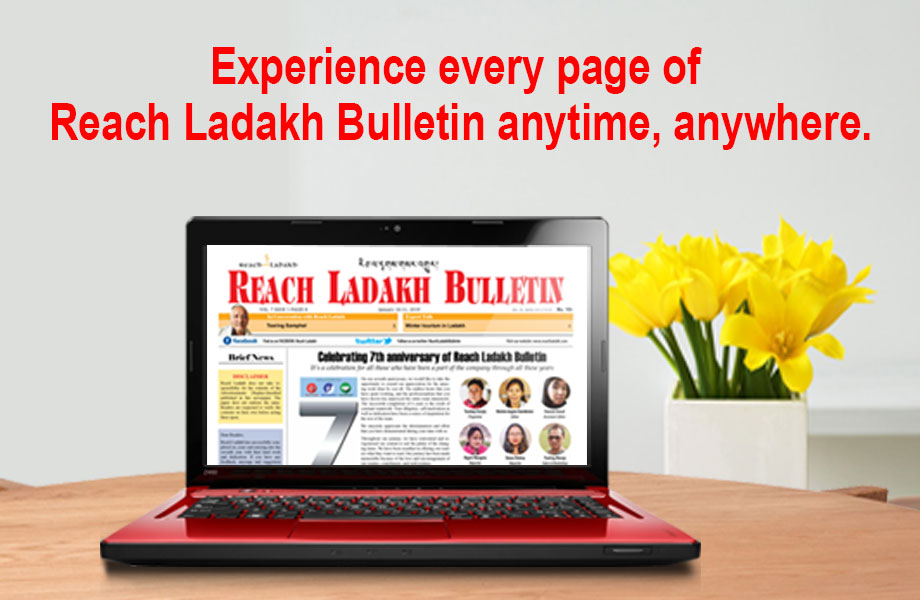 LEH :
Go Green Go Organic is a project which was initiated by H.H Skyabgon Chetsang Rinpoche in the year 2013 and launched on April 28, 2014, in Lalok.
The main aim of the project is to preserve the fragile environment, sustainable development, economic prosperity, and to spread greenery in this region in terms of organic farming.
Since from the launching, this project has planted different kinds of trees in Lalok. They have completed three phase of planting trees as well as they are focusing on the ancestral occupation of agriculture and emphasized more on doing organic farming of vegetables and potatoes.
Last year they have planted 25,000 nurseries of sea buckthorn in FRL, this year they are going to shift these nurseries to different villages of Lalok. These days they are cutting pencil size sea buckthorn from forest park to plant nursery for next year. They have got the technical consultant from FRL Leh.
Sea buckthorn is a wonderful and unique plant which is full of vitamin C. This medicinal plant consumes less water. The areas where this plant grows become fertile. There are vast scope and advantages from this plant. We know about the berry juice and jam, other than that the plant can be made medicine which can cure dangerous disease like cancer. The tea made from it is the best blend which helps to cure many kinds of disease.
The nursery in FRL is planted in a very wonderful way which helps plant to yield in a proper way. The pencil size cutting is first dip into the water for 24 hours after that we soak it into the IBA treatment for one minute, which helps to enhance the root initiation, and after that started plantation of the pencil size cutting in the ground which is covered with a black sheet. The reason why we covered the ground with the black sheet is to protect from the weeds, though enhance the growth of a plant, said Phuntsog Angmo research student at FRL.
Namgyal Durbuk, Director 3GO said, "We have planted sea buckthorn in the first phase without a consultant, we couldn't survive more than 30% so we consult Dr. Stobdan FRL and he told us that nursery is important for the survival of seabuckthorn. We started planting nursery in FRL last year and now we are going to shift these nurseries to different villages of Lalok. We have planted thirty thousand nurseries of seabuckthorn for the next year."
Till today, we have planted one lakh fifty thousand plants of different types in Lalok. There are vast future scopes and opportunities from sea buckthorn for the next generation; the best gift for the next generation is our environment, which is something sustainable in nature. The land has to serve best from the long past and it is the only sustainable thing in our life. So the project aims at the environmental friendly occupation and sustainable development. He added
The main objective of the project 3GO is to 'Go Green' by preserving the fragile and unique ecosystem of Ladakh by the large scale of the plantation. Secondly, it is to 'Go organic' by encouraging traditional environmental friendly occupation of Ladakh i.e. agricultural activities and animal herding by providing an innovative market orientation that could be an alternative occupation for the coming generation.
Go Green Go organic trying to solve the global issues such as weather calamities, ecological imbalances, and global warming diseases etc, which are some of the biggest issues faced by the world. Due to bad eating habit of chemically produced foods and junk food, people are more prone to dangerous disease like cancer etc. Keeping these in mind, go green encourage the people to eat organic food and vegetable and focuses on growing and supplying organic vegetables for all.
Go Organic aims to bring a health consciousness of eating organic food, and natural ways of growing vegetables, as well as to supply healthy vegetables to the market at an affordable price. Last year His holiness Skyabgon Chetsang Rinpoche brought the best organic potatoes from Himachal Pradesh and distributes it to the local people to cultivate. They deal with the villager to return some amount of potatoes to be given back to the project again to distribute to the next village and goes on. The main aim of it is to distribute the seed of potatoes so that it becomes the seed village.
3GO become the member of Mountain Institute USA and mountain partnership Italy.
Inspired by the movement of the project about the sensitive environment and plantation of trees in this harsh environmental region of Ladakh i.e Lalok (Changthang) large number of association and institutions came forward to encourage the project.