VC, Ladakh University, holds meeting with CEC, DC Kargil
Discusses issues regarding immediate requirements of the university
By
Reach Ladakh Correspondent
Kargil, Jul 06, 2019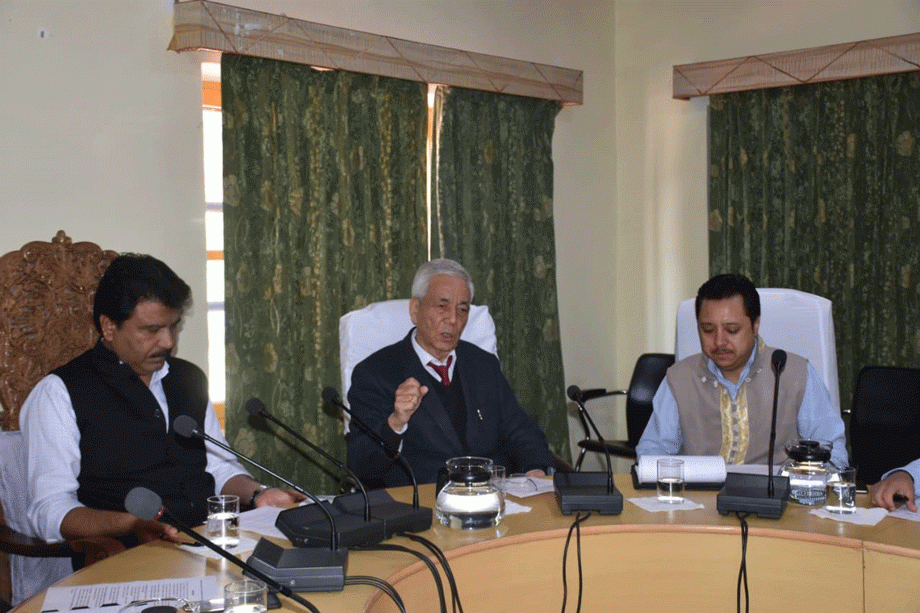 Kargil :
To discuss the arrangement of temporary office accommodation and identification of land for the establishment of University campus in Kargil district, a meeting was held on July 2 at Tourist Facilitation Centre.
The meeting was convened by IAS (Retired) C Phuntsog, Vice Chancellor, Cluster University of Ladakh with Feroz Ahmad Khan, CEC and Baseer ul Haq Choudhary, DC.
It was decided in the meeting that Purig Guest House of Tourism Department located at Kurbathang would be handed over to the Cluster University of Ladakh for the establishment of temporary office on rent basis till the establishment of a permanent office complex.
Discussion on the additional accommodation for starting integrated PG courses, identification of PG courses, establishment of Women's College, introduction of paramedical courses, staff selection for the newly established Cluster University besides other related issues were also discussed.
C Phuntsog proposed that lower Kurbathang plateau would be the most ideal place for setting up of the University campus where 4 acres of land would be needed. He also proposed that the land patch near the Aerosports complex near Kargil Airport as another possible option.
Baseer ul Haq Choudhary informed that the decision with regard to the identification of land would be taken only after the visit of the technical team of the Airport Authority of India (AAI). The team will conduct a technical survey for the expansion of Kargil Airport at Kurbathang area.
He further added that patch of land measuring about 400 kanals near Tharumsa Pashkum could also be considered as an option for setting up of the Cluster University infrastructure.
C Phuntsog urged CEC and DC Kargil to start the process of DPR formulation for the construction of additional accommodation at Degree College Campus Kargil for starting of integrated courses which would be funded under RUSA. 
The first batch of undergraduate courses in the Cluster University is likely to start by February-March 2020 and the exams of the semester would be conducted in June-July.
While expressing satisfaction over the timely start of the modalities of the Cluster University, Feroz Ahmed said that the LAHDC Kargil is committed to extend support to ensure early functioning of the university.
 Discussion for the running of integrated Islamic Studies and Arabic course, Bachelor and Masters of Physical Education), BSc Nursing and Paramedical Courses among other courses in the Cluster University of Ladakh were also carried out.
Also, Assistant Professors, lecturers and other subject experts posted outside the district would be brought on deputation in the Cluster University. Moreover, a discussion was also held for exploring possibilities to engage retired Government employees on contract until the regular staff is selected and positioned. 
Sonam Chosjor, Additional Deputy Commissioner Kargil, Imteeaz Kacho, Registrar, Cluster University of Ladakh, Prof Deskyong Namgyal, Controller of Examinations besides other concerned officers attended the meeting.